Wingstop Will Give You Cash and Merch If You Wear Its New Ad Sweaters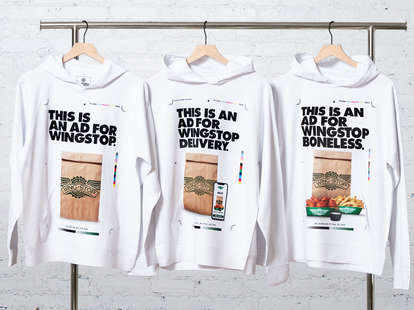 Billboards work. If I catch that there's an In-N-Out waiting to serve me Double-Doubles at the next freeway exit, the likelihood of me pulling over is high. But sometimes, the scale and price of billboards are too high. Wingstop has cleverly found its way around this.
On Wednesday, the chicken wing chain associated with Rick Ross announced that it's giving away free merchandise and Venmoing $10 to each person who posts an ad about Wingstop on their public Instagram. Publicity is publicity, right?
"Our fans are continually asking us to sponsor them and Wearable Billboards draws on this insight, allowing us to engage with brand loyalists in a way that only Wingstop can," sChristina Clarke, chief marketing officer, said in a release. "Wingstop fans are already talking about us on social media, so we thought, 'why not make it official and pay them?' This isn't your average brand swag."
The sweaters, all of which read "This is an ad for Wingstop" in some capacity, are tongue-in-cheek and very clearly promotional materials. I mean, if you're chill with rocking a giant Supreme logo on your clothes, why not rep Wingstop and their magical lemon pepper chicken, too?
To snag your own sweatshirt and the opportunity to get an extra $10 for your shameless IG post, head over to wingstopwearablebillboards.com. The giveaway begins March 9 at 12 pm EST.
Ten bucks is plenty of money for an order of wings.
Sign up here for our daily Thrillist email and subscribe here for our YouTube channel to get your fix of the best in food/drink/fun.
Kat Thompson is a staff writer at Thrillist. Follow her on Twitter @katthompsonn.