The Biggest Wipeouts & Crashes at the 2018 Winter Olympics (So Far)
Even the world's greatest athletes have bad days. Sometimes, they have really bad days. And unfortunately, those occasionally coincide with a high stakes competition at the Olympics. That means some dramatic spills, wipeouts, major blunders, and crashes are all but inevitable during the Games. That's already true at the PyeongChang Winter Games, where a handful of snowboarders, lugers, cross-country skiers, downhill skiers, and more have taken some serious tumbles. 
And while the Olympics is obviously intended to showcase the wildly impressive skills of the world's most elite athletes in their individual disciplines, you'd be lying if you weren't also interested in seeing a bit of the rough stuff. So, in the interest of giving you a taste of the gnarlier side of things, we've hand-picked some of the most insane crashes and wipeouts to go down during the Winter Games so far. And just a heads up: we're not including any in which anyone was seriously injured.
Incredibly, American Luger Emily Sweeney walked away unhurt from a terrifying crash on her fourth run.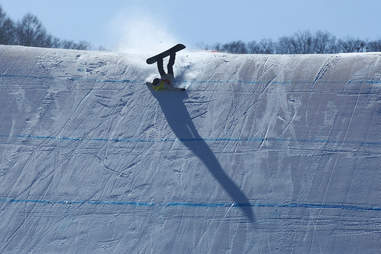 getty images/Tim Clayton - Corbis/Contributor
Whether it was the crazy winds or not, slopestyle proved to be tough on quite a few snowboarders. Switzerland's Sina Candrian made a pretty hard crash landing.
getty images/getty images sport/Matthias Hangst/Staff
Norway's Simen Hegstad Krueger (right) wiped out pretty badly during the men's 15km skiathlon cross-country skiing event, causing him to fall far behind. Incredibly, he managed to make up for it and eventually ended up winning the gold medal.
Austrian Luger Birgit Platzer actually caught some air on this run, eventually tumbling off his sled (he's ok).
getty images/afp/MLADEN ANTONOV/Contributor
The short track speedskating event was a bit of a crash-fest, overall. China's Han Tianyo and Italian Yuri Confortola slammed into the wall during the 1500m heat.
During the women's slalom event, Switzerland's Lara Gut wiped out just 17 seconds into her run, slamming into a gaggle of photographers. No one was hurt, and Gut got right up and walked away.
Swiss freestyle skier Joel Gisler smacked into the wall of the halfpipe after soaring 15 feet in the air. Luckily, he walked away on his own.
GETTY IMAGES/TIM CLAYTON - CORBIS/CONTRIBUTOR
Jussi Penttala of Finland took a bit of a tumble during the men's mogul's qualifications.
The German two-man bobsled team pushed things a little too hard during their third of four runs, and tipped their sled on its side just before the finish line. They were fine, and even ended up taking the lead.
Sign up here for our daily Thrillist email and subscribe here for our YouTube channel to get your fix of the best in food/drink/fun.