Olympic Curler's Husband Double-Fists Beers During Her 9am Match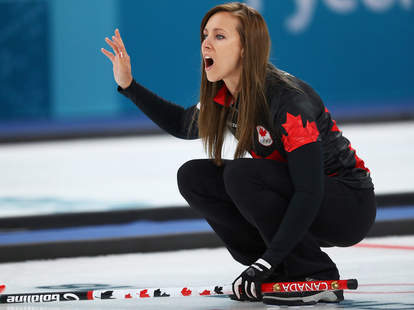 getty images/getty images sport/Dean Mouhtaropoulos/Staff
In the high tradition of Red Gerard's family shotgunning morning beers on the slopes, Shawn Germain was in the stands bright and early to support his wife, Canadian curler Rachel Homan, in a curling match against Japan. Germain dealt with the high-stakes situation as any reasonable spouse would: by double-fisting beers at 9am. As a former EHCL hockey player, he's no stranger to competition and knows that a drinking fan is a good fan.
Favourite Olympic moment so far: Canadian curler Rachel Homan's husband double-fisting his third and fourth beers while watching his wife compete against Japan. It's 9am in Korea. Not all heroes wear capes. #PyeongChang2018 pic.twitter.com/jzrVsu06Vi

— Ben Johnson (@Ben_T_Johnson) February 19, 2018
At least one of his beers may have been celebratory, after the match ended with Japan conceding. Germain later took to Twitter to defend having a beer (or four) during the match, chalking the breakfast-time drinking up to nerves. He also denied reports that he missed the end of the match while waiting in line for more beer.
You can judge all you want. The stress level is high, I'm not a drunk, I'm just Canadian. #WeBelieve

— Shawn Germain (@GermainShawn) February 19, 2018
Also.... For the record, they may have showed that clip after the game but I did not miss the end. I was right where I always am in row 684 with my father in law #webelieve

— Shawn Germain (@GermainShawn) February 19, 2018
Canada carried the day on with an 8-3 and was in seventh place as of Tuesday afternoon (United States-time) after losing in its next march against against China. This was a huge win over a second-place Japan and means that Canada may still have a shot at the finals.
For Germain's sake, we hope those take place a little later in the day.
Sign up here for our daily Thrillist email and subscribe here for our YouTube channel to get your fix of the best in food/drink/fun.
 
James Chrisman is a News Writer at Thrillist who believes making snow angels should be the marquee event of the Winter Games. Send news tips to news@thrillist.com and follow him on Twitter @james_chrisman2.