10 Things to Know About Nathan Chen, Figure Skating's 'Quad King'
It's bad form to open an article about one athlete by talking about another, but during an Olympic Games that have been dominated by the indomitable camera magnet/quote machine/twitter star/human hug Adam Rippon, some breakout athletes can get lost in the mix.
Nathan Chen, the 18-year-old American figure skating phenom, is making his Olympic debut at PyeongChang, yet because of his newness on the scene and the outsize personalities of some of the other olympians, he hasn't been getting the coverage he deserves. Yet given the potential of his performance, it's good to get on the ground floor, or join the Chen Pen, which isn't a thing, but should/could be. #ChenPen
Chen, a Salt Lake City native, is a next-generation figure skater, pushing the boundaries of the event and bringing the competition for a gold medal with him. He brings a high-risk, high-reward mentality to the event. Within his program it's been said that he attempts as many quads (four full rotations in the air) as other skaters attempt triples; a fact which has earned him monikers like "The King of Quads" or "The Quad King."
The points accumulated by these jumps are only matched by their difficulty. It's a high-wire act that could pay off massively for the young competitor.
Before he takes to the ice for the short program this Friday afternoon (Thursday evening here in the United States), let's learn a little more about this electric athlete as told in his own words.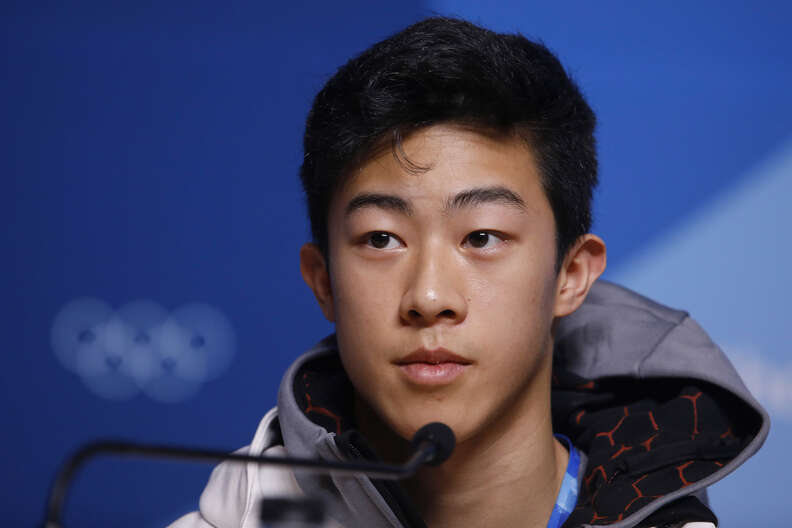 He's an NBA super fan
Chen even has a secret Twitter account to follow NBA news without his TL being clogged with skating news. He spoke to The Wall Street Journal about his opinions on top NBA stars.
On Russell Westbrook: "To see him charging -- he doesn't give a shit. I just really like that attitude, and it's something I try to emulate on the ice. Ignore the distraction, and go do what you want."
On LeBron: "He's the GOAT. Just year after year after year, game after game, he's consistently amazing. That consistency is something I strive for. It's really inspiring for me to watch that."
On Steph Curry: "He's just a god. Not from this planet."
He's a mama's boy
"My family and parents were very influential in my skating career," he said in statement provided by the US Olympics Committee and NBC Olympics. "My Mom spent most of her free time driving me around, spending time on the ice, and watching me skate. My mother was the most influential person in relation to my career. She was the one who helped me begin skating and help me find my love for the sport, as well as push me through the hard times."
He's fighting back after hip surgery
"I was injured last season after the US championships. This injury required immediate surgery and took me off the ice for around 5 months," he said in the statement. "This took me off the World Team, so it was mentally difficult. Fortunately, this was not a career ending injury or an injury that needed years to heal. I had a great support team behind me that helped me every step of the way back onto the ice and seemingly, in no time I was back to full training."
He eats like an 18 year-old
"Since I am still young, I don't have an extremely strict nutrition plan. I have a relatively organized nutrition schedule, completely in thanks to my mom who organizes my meals for the day. I eat 2 major meals, breakfast and dinner, and tend to eat lots of small sides throughout the day to keep me fueled. I love desserts, especially Hershey's chocolate. I also love sushi and Japanese food. Food is my favorite in general," he said, per the USOC.
He's got some Jack Johnson vibes
"My brother and I both play guitar. That is something fun and relaxing. Otherwise, we mostly relax by the beach and give ourselves time to recover," Chen said in an interview with Parade.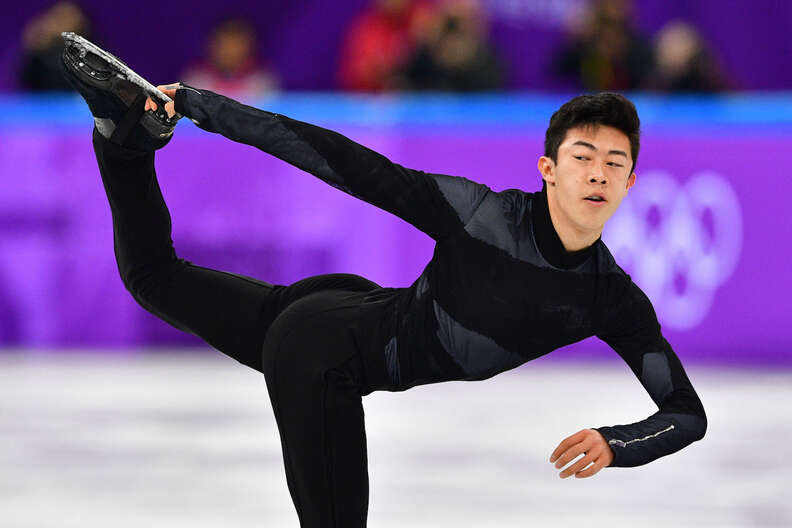 The skating bug bit him as a near-toddler
"I remember watching [figure skating] on TV during the 2002 Olympics, and I remember going to the rink and pretending to be in the Olympics," he said, according to the USOC. "I've always wanted to be in the Olympics but, I always made sure to not think too far ahead and take things one step at a time."
He follows in the footsteps of his role models
"Almost every Olympian is extremely inspiring. I really loved watching sport legends like Michael Phelps, and Apolo Ohno race."
He pines after the cleverest witch
"[My crush is] Emma Watson," Chen said in the same statement. "I love her work and also the things she stands for outside of her acting."
He's a sitcom lover
"I'm a huge fan of Scrubs, How I Met Your Mother, and Parks and Rec. I love Marvel and DC movies as well."
He has some reasonable grievances
"Well there's few things that I really hate. One is I hate spiders, I'm terrified of spiders. And then two is also when you're wearing headphones and they just get ripped out of your ears on accident [sic] but hitting something. Those are the worst. Those are the two things that I hate the most," he told Teen Vogue.
Regardless of how these games go, it's clear that Chen has already made an impact on the world of figure skating, pushing his competition to aspire to bigger and bolder programs. So get accustomed to the name; you may be hearing it for years to come.
Sign up here for our daily Thrillist email and subscribe here for our YouTube channel to get your fix of the best in food/drink/fun.