This Olympic Curling Team Is Back to Win Gold With Their Extremely Fancy Pants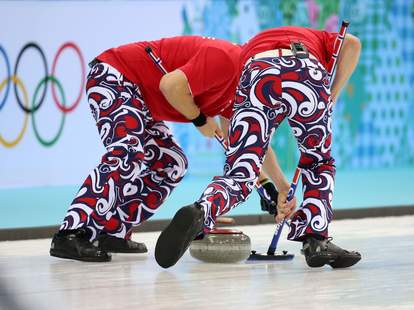 getty images/Andrew Milligan - PA Images/Contributor
Curling is a baffling sport for Americans. Despite Mr. T's passionate defense of that game with brooms and a rock, we remain ignorant and confused. And the Norwegian curling team's insanely fancy pants aren't clarifying anything.
If you haven't seen them yet, they're a likely candidate for greatest pants ever worn in competition, and possibly for greatest pants of all time.
getty images/getty images sport/Jamie Squire/Staff
In the 2010 Winter Olympics in Vancouver, the Norwegians made their Olympic-fashion innovation. Curling pants had previously been decidedly unfancy. Curlers mostly wore black -- a serious color for the serious task of brushing ice in front of a sliding rock.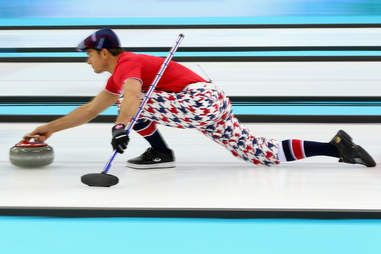 getty images/getty images sport/Quinn Rooney/Staff
But that year, Norway showed up and dressed up. The team wore fantastically ugly argyle pants with diamonds in the colors of the Norweigan flag: red, indigo, and white. At Sochi 2014, the team brought even more patterns: zigzags and swirls and flag-prints and florals. While they didn't place in 2014, their bold looks lead to a Facebook group honoring the fancy pants. As of Monday, it has 484,836 members, which is both staggering and entirely understandable.
For PyeongChang, the team has 12 outfits total, the first of which came complete with matching jackets. All of these pants are made by the company Loudmouth, which sponsors the team.
For Valentine's Day, the team wore special pink pants with hearts. They don't go with the shirts at all, but love, as they say, is blind.
More varieties of fancy pants will be revealed as the tournament progresses, so you better hope they sweep (no pun intended) the competition this year so we can get the Olympic fashion show we deserve.
h/t Mashable
Sign up here for our daily Thrillist email and subscribe here for our YouTube channel to get your fix of the best in food/drink/fun.


James Chrisman is a News Writer at Thrillist who believes making snow angels should be the marquee event of the Winter Games. Send news tips to news@thrillist.com and follow him on Twitter @james_chrisman2.