These Giant, Penis-Man Statues in PyeongChang Just Became the Olympics' Weirdest Meme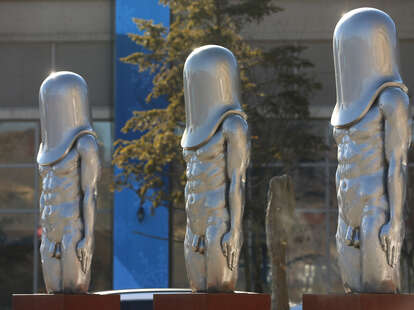 Getty Images/Toronto Star/Steve Russell/Contributor
The 2018 Winter Olympics are finally here, and we're all very curious to see which nation will take home the gold for curling. But there's only one contest that truly matters globally: making super-dank memes out of the PyeongChang Games. So we are very sorry to report that Japan has officially secured the gold medal for its, uh, extremely inspired memes of a set of giant, silver statues of... penis men.
Allow us to explain.
As you can see (check out the photos above), a set of huge penis-men statues were erected at the PyeongChang Olympic Village, complete with very visible penises. They're shiny, prominent, and exceedingly naked. And they've understandably turned many a head throughout the Games so far.
These giant, silver, anthropomorphic phalli have been nicknamed "モルゲッソヨ," which is apparently a Japanese spelling of the Korean phrase "I don't know," according to Buzzfeed. When Japanese media asked Olympic staff about the statues, that was their entirely understandable response.
And now for the actual memes. Obviously this isn't safe for work. But you clicked on an article about large silver penis-man statues, so you probably knew what you were getting into.
This is truly what the Olympics are all about.
Sign up here for our daily Thrillist email and subscribe here for our YouTube channel to get your fix of the best in food/drink/fun.

James Chrisman is a News Writer at Thrillist who believes making snow angels should be the marquee event of the Winter Games. Send news tips to news@thrillist.com and follow him on Twitter @james_chrisman2.