The Official Olympics Site Has a Hilarious Hidden Joke About the Sochi Games
The International Olympic Committee (IOC) isn't known for its sense of humor. (Remember their ill-advised battle against knitters in 2012?) And that's mostly fine as long as there are still personalities like Adam Rippon and Chloe Kim to make the Games fun.
But if you're poking around the Olympics' website, you might discover the Olympics at least has a tiny sense of humor. You'll have to dig for it, but if you manage to navigate yourself to an error page -- like, say, this one -- you'll find the classic "404 - Page Not Found" error message. Only, the image behind the text is the famous Olympic rings failure from the opening ceremony of the 2014 Sochi Winter Olympics.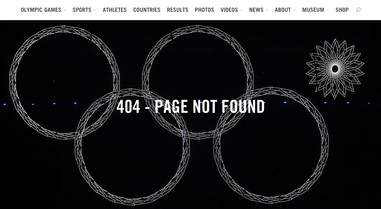 Olympic.org
Starting from five lighting fixtures in the shape of snowflakes, the image bloomed until it became the Olympic rings. Except one of the rings never opened. It instantly became a meme.
Even the Sochi organizers saw the humor in the situation. During the closing ceremony of the Sochi Games, they poked fun at the incident by recreating it.
Under the error message on the current Olympic site, there's a headline that reads, "Sometimes things don't go as planned." In place of the usual description below though, they probably could have just gone with the *chef kiss* emoji.
Though it appears this has been the site's error page for at least a year, it's pretty much the perfect 404 error page. Even if it's still up in a year when the Russian team is kind of, sort of not part of the Olympics. (They totally are, even if they can't wave the Russian flag.) Well played Olympics web team. Well played. 
h/t Reddit
Sign up here for our daily Thrillist email, and get your fix of the best in food/drink/fun.
Dustin Nelson is a News Writer with Thrillist. He holds a Guinness World Record but has never met the fingernail lady. Follow him @dlukenelson.