Tons of People Are Changing Their Tinder Locations to Match With Olympic Athletes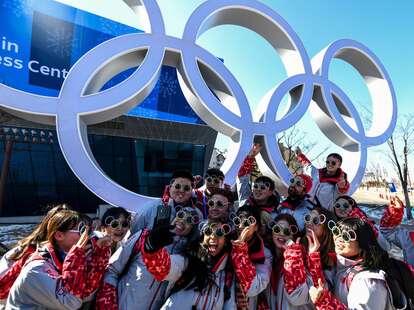 credit: getty images/AFP/DIMITAR DILKOFF/Contributor
A lesser known Olympic sport takes place at every Games, behind the scenes of network television and hordes of fans carrying signs and shotgunning beers. We're talking about Olympians meeting each other and promptly hooking up. It's a tradition almost as venerable as the ancient Games themselves, and apparently Tinder users across the globe are trying to cash in on the action.
For the Olympics, the dating app turned on its Tinder Passport feature to members of its premium services, Tinder Plus and Tinder Gold. The switch enabled users to change their GPS location and swoop in on any dating scene in the world. The Olympic Villages in South Korea have been a primary target of international cyber-lust, according to the company's internal data, which reported an 1,850% increase in users "passporting" to PyeongChang since the Games kicked off.
As Mashable reports, the swiping has been rampant. The company reports overall use of the app in Olympic Villages has surged 348%, while right-swipes have increased 565% and matches have crested 644%.
In mirroring the Olympics themselves, Tinder has added an official ranking of countries beaming into the Olympic Villages, ranking them based on the sheer volume of users passporting into the Games. American horniness wins out, with the US notching first place, followed by Sweden and the UK in second and third.
Given the Olympics so far, it shouldn't be a surprise that sliding into Adam Rippon's DMs has become the newest event to pique people's interest.
Sign up here for our daily Thrillist email and subscribe here for our YouTube channel to get your fix of the best in food/drink/fun.


Sam Blum is a News Staff Writer for Thrillist. He's also a martial arts and music nerd who appreciates a fine sandwich and cute dogs. Find his clips in The Guardian, Rolling Stone, The A.V. Club and Esquire. He's on Twitter @Blumnessmonster.