7 Things You Should Know About Figure Skater Yuzuru Hanyu, Japan's 'Ice Prince'
Imagine if you will, 127 million eyes glued on you performing during the highest-pressure moment of your life.
In America, the Olympics offer us an intense sense of pride in our team, to the point of myopia towards the monumental status certain athletes have in their home countries. But you can always count on at least one international athlete to break through during every Games. Enter Yuzuru Hanyu.
Hanyu, a two-time figure skating world champion and four-time Grand Prix Final champion, is debatably the biggest athlete in Japan. While popularity of the sport may be waning to a certain extent in the West, it's gaining steam in Japan, boosted by adoring and engaged female fans. Think of Hanyu as Japan's LeBron James, with a little bit of Ryan Gosling thrown in for good measure.
The 23 year-old's appeal is apparent to anyone who watches him skate, but his demeanor is focused to win over the Japanese people: Hanyu possesses an elegance atypical of more masculine and athletic-focused male figure skaters -- it's a grace and artistry prized with his home audience.
It's also apparent among judges. Hanyu is the defending champion, having taken the gold medal at Sochi in 2014 after winning both the short and long programs. With his short program win Thursday (United States time), he's on pace to cement himself as the GOAT.
And those 127 million eyes? When Hanyu skated for the gold at Sochi it was estimated that 31 million people -- a quarter of Japan's population -- were watching. And that was when it was airing at 4 a.m. It's not out of the realm of possibility that his free skate performance could be viewed by double that.
So, what is it the Japanese see in Yuzuru Hanyu? And what do you need to know to love him too?
He may quite literally be the greatest of all time
When Hanyu took the gold at Sochi, he was the first skater to ever earn more than 100 points in the short program. He's since gone on to break his own world record, which currently stands at 112.72. He also holds the record for free skating with 223.20, and combined total with 330.43. With his 111.68 score on Thursday (an Olympic record), he's proven to be skating at his best.
If he takes the gold at PyeongChang, he'll be only the second skater in history to defend a gold medal. The last person to do it was Dick Button, in 1948 and 1952.
His earthquake experience bonded him to his homeland
Hanyu hails from Sendai in northeastern Japan, an area that was devastated by an earthquake and resulting tsunami in 2011. He was 16 at the time, and was training when the earthquake struck; it's said that he ran outside in his skates. When he won at Sochi in 2014, his program was imbued with symbolic meaning for a homeland still in recovery.
People view him as a straight-up hero
After Hanyu's gold medal win at Sochi, he was greeted with a hero's welcome in Sendai. A whopping 92,000 people reportedly attended a parade in his honor.
PyeongChang is actually his first competition in months
After his performance Thursday, any doubts about Hanyu's health may have been overblown. But before the Olympics, he had been recovering from an ankle injury that had the skater sidelined since November. Hanyu suffered ligament damage while training for the NHK Trophy, and his recovery was slower than expected, leaving doubts about his potential in PyeongChang.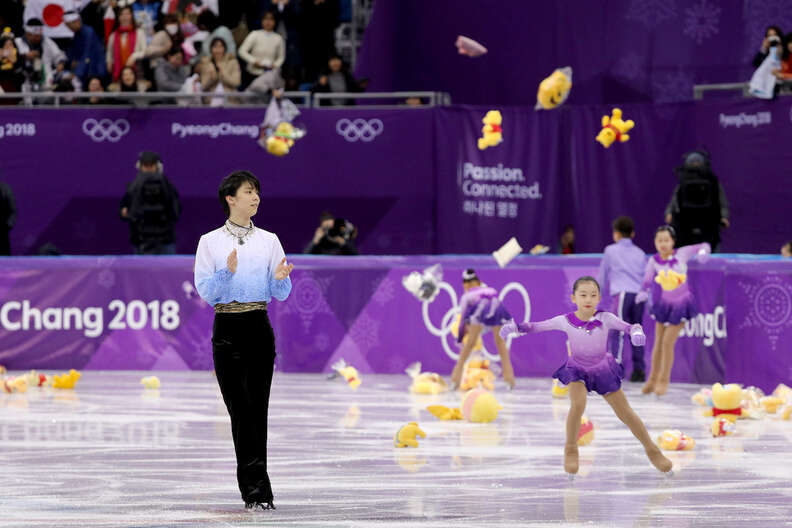 Johnny Weir designed his (first) gold medal costume
Even if America doesn't make the podium in figure skating this year, one thing we can rely on is great commentary during the events from Johnny Weir. His outsize personality and extravagant outfits have made him a highlight of the Olympics since he first made his debut at the Sochi Games. That year, when Hanyu competed for the gold, he was wearing a costume designed by Weir.
Winnie the Pooh is his spirit animal
If you watched Hanyu's short program on Wednesday, you saw the ice flooded with Winnie the Pooh stuffed animals after his performance. Hanyu has adopted the character as something of a mascot, or a good luck charm at any rate. Since 2010, he has positioned a Winnie the Pooh plush tissue box cover on the edge of the rink to oversee his skating, claiming to take comfort in the doll's unchanging gaze.
After each Pooh-raining, Hanyu's sister, parents and agent go through bags and bags of gifts and separate out the stuffed animals, which are then donated to children in whichever city the competition is taking place.
Perhaps due to copyright and licensing issues, Hanyu hasn't been able to have his totem with him on the sidelines. I mean, could you imagine the legal nightmare of a Winnie the Pooh plush on TV? It's almost like there aren't hundreds of stuffed Pooh bears thrown on the ice after every one of his performances. Instead, he's using a tissue box case that somewhat resembles a cake.
He has some interesting nicknames
Hanyu has some affectionate nicknames from his fans. He's called "mushroom" or "mushy" by some, based on his haircut (specifically from when he was young and had a pretty epic bowl/mushroom cut).
But mostly he's known in Japan as "The Ice Prince."
We'll soon find out if he'll be coronated king as he takes the ice for the free skate prime time Friday (US time).
Sign up here for our daily Thrillist email and subscribe here for our YouTube channel to get your fix of the best in food/drink/fun.