Everything You Need to Know to Watch the 2018 Olympics Closing Ceremony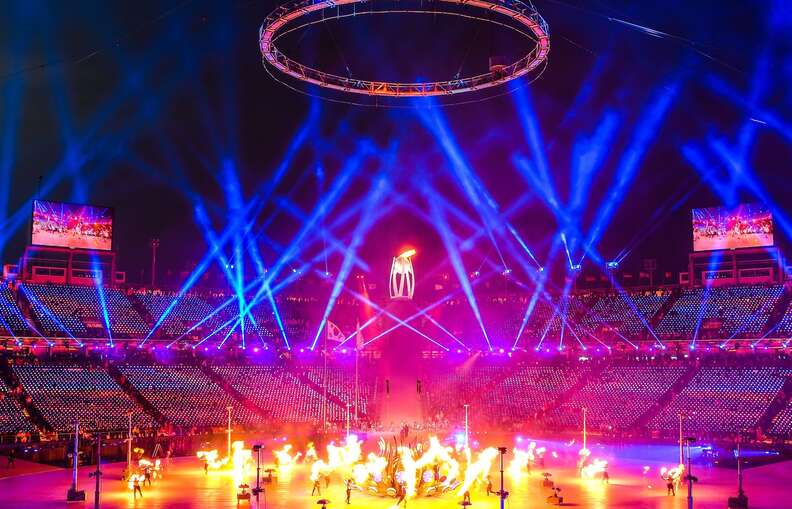 getty images/afp/JONATHAN NACKSTRAND/Contributor
It's hard to believe that it's already been two weeks, but it's true: the 2018 Winter Olympics are coming to an end. On Sunday, February 25, the massive international spectacle in PyeongChang will officially wrap up with the Closing Ceremony. It may not promise the thrill of competition or the sass of Adam Rippon, but it's sure to be exciting in its own right, and it will likely end up being one of the most memorable moments of the Games. And who knows what the drones will be used for this time... or whether that guy from Tonga will keep his shirt on.
If you're wondering whether to watch the event, here's what you should expect, and how to tune in.
What time is the Closing Ceremony?
If you want to watch the Closing Ceremony live you'll need to set your alarm for early, as things kick off at 6am ET on Sunday, February 25. There will be a live stream available via the NBC website and apps, though there won't be any commentary during them. But, don't worry -- you don't have to wake up early to watch the event.
NBC will re-broadcast the Closing Ceremony in primetime later on Sunday at 8pm ET. The show will be hosted by Johnny Weir, Tara Lipinski, and Terry Gannon, who've been providing entertaining play-by-play figure skating commentary together for the last couple weeks.
What will happen during the Closing Ceremony?
Traditionally, host countries use the Opening and Closing ceremonies to celebrate the unique culture and heritage in grand fashion, and South Korea will follow that lead when it brings the Games to a conclusion in the PyeongChang Olympic Stadium. The director of ceremonies for PyeongChang, Oh Jang-hwan, teased a bit about what will happen during the last hurrah of this year's festivities, revealing in an article on the Olympics website that the theme will be "Next Wave."
"It will have a festival atmosphere to recognize and celebrate the athletes' hard work and achievements at the Games," he said "We have created a show that looks towards the future; it includes quite a lot of traditional Korean humor and fun elements to add to the party feel."
You'll be seeing and hearing a whole lot more K-Pop, too. South Korean boy group Exo and the singer CL are both confirmed performers, though there will likely be a few surprises, too.
Like in the Opening Ceremony, the Closing Ceremony will include a parade of nations. American Jessie Diggins, who just won a gold medal in cross-country skiing, was chosen by her fellow Olympians to be the flag bearer for the United States this time around. And as is customary in every Closing Ceremony, there will be a ritual passing of the Olympic torch to the next host city of the Winter Games: Beijing.
Sign up here for our daily Thrillist email and subscribe here for our YouTube channel to get your fix of the best in food/drink/fun.