A Wireless-Charging iPhone Might Be Here Sooner Than You Think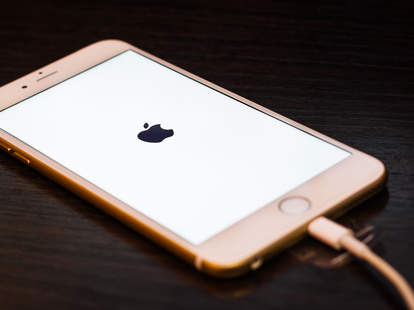 <a href="http://www.shutterstock.com/gallery-2280761p1.html?cr=00&amp;pl=edit-00">Attila Fodemesi</a> / <a href="http://www.shutterstock.com/editorial?cr=00&amp;pl=edit-00">Shutterstock.com</a>
If your desk drawer resembles a tangled mess of holiday lights, you'll probably like this Apple rumor.
According to a report in Bloomberg Business, Apple may be working on technology that would allow iPhones to charge wirelessly by 2017. Now, it's not like you're going to be able to charge your iPhone from the middle of the Mojave, though that would be sweet. But if you're int he middle of the Mojave, you've got bigger problems. Still, you could charge your iPhone three feet away from your computer, potentially. 
Bloomberg doesn't name its source on this, saying that "the people" asked "not to be identified as the details are private." The report also states that an official spokesperson for Apple declined to comment on the wireless developments. However, there are some facts besides "the people's" testimony that hint at this being true.
The report states that Apple actually applied for a patent back in 2009 that outlines a way to charge your phone with the computer acting as the charging "hub." This would allow you to charge your phone without cords, while it's still in your pocket. Bloomberg says phones could potentially charge from one meter, or about three feet away from the "hub." In addition, there's another Apple patent out there for an aluminum casing that lets radio waves pass through it.
Furthermore, Bloomberg notes this is similar to the technology used to charge the iWatch. So, this theory isn't just pieced together like some UFO story based on a crop circle and a missing cow. This could totally happen.
The truth is out there.
Sign up here for our daily Thrillist email, and get your fix of the best in food/drink/fun.
Kara King is a News Writer at Thrillist and a truth seeker. Send news tips to news@thrillist.com and follow her at @karatillie.