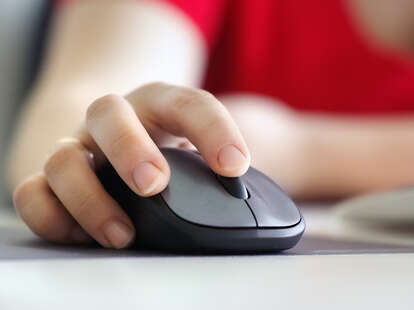 Unless the batteries are dead (again), your wireless keyboard and mouse aren't things you think about often. But hackers might, as they can actually exploit the wireless link between your devices and take control of your computer for themselves. Worst of all, it's alarmingly easy to do.
Security researchers at Bastille Networks warn that if you use a non-Bluetooth wireless keyboard or mouse that connects to your computer via a USB dongle, you could be vulnerable to attacks, according to a report by Gizmodo. The researchers found that many peripheral devices from seven manufacturers -- Dell, Logitech, Lenovo, and others -- do not encrypt the communication sent to the corresponding dongle, which could open the door to a hacker attacking your computer with malicious commands. Hackers can execute the attack, known as Mousejack, as far as 300ft away.
"Depending on the speed of the attack and how closely the victim is paying attention, it can happen pretty quickly," Marc Newlin, one of the researchers, told Threatpost. He goes on to explain that an attack via the dongles can pack keystrokes equivalent to 1,000 words-per-minute typing and, ultimately, install a rootkit on your computer in 10 seconds. So, even if you're paying attention to what's happening on your screen, you could be screwed before you even realize it.
The good news is that at least one of the device manufacturers, Logitech, has responded to news of the vulnerability with a firmware update that will prevent such attacks. The bad news is that you may be among the millions of people using a mouse and keyboard vulnerable and unable to receive an update, and one of these simple attacks could compromise entire corporate networks, according to Threatpost. Obviously, the only solution is to throw your mouse and keyboard in the garbage and refuse to do any more work until your IT department replaces them. Or something like that.
Sign up here for our daily Thrillist email, and get your fix of the best in food/drink/fun.
Tony Merevick is Cities News Editor at Thrillist and is not at all serious about throwing your devices in the trash. Don't do that, but by all means talk to IT people. Send news tips to news@thrillist.com and follow him on Twitter @tonymerevick.