Here Is a Coven Of Witches, Minding Their Business, Paddleboarding Down a River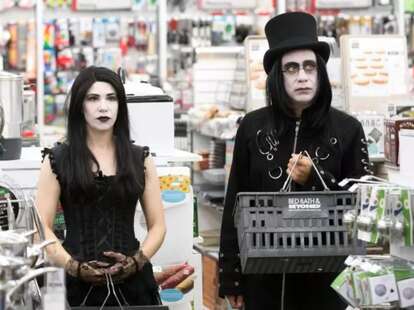 Portlandia

| IFC
Portlandia

| IFC
Last weekend in New York, I watched a man clip his toenails with a pair of scissors on the subway. Last weekend in Portland, commuters watched a coven of fully-costumed witches on paddleboards, rowing down the Willamette River. So if you had any doubts, you can now sleep soundly knowing that Portland is, in fact, still weird.
The parade of sorceresses (and their wizard/warlock companions) took to the river early on Saturday donning traditional garb -- long dark robes, a smattering of warts, and pointy cone-shaped hats. Each was standing upright, atop his or her own paddleboard, brandishing an oar in place of a broomstick.
In the traditional use of the word "coven," witches congregated in groups of 13. But these are Portland witches, and you cannot put them in a box, goddamnit. These witches flocked to the Willamette in the hundreds.
You may be surprised to learn that this is not, in fact, the first coven of witches to grace the Willamette. This is the second annual Paddleboard Witch Paddle, and considering its resounding success, it appears to be a tradition Portlanders are keen to maintain for years to come.
That being said, please forget all of your preconceived notions about witches -- this floating witch parade is about philanthropy. According to a report by Oregon Live, magical participants came paddleboarding from near and far, toting armfuls of canned food, socks, clothing, and packaged underwear, all of which will be donated promptly to local charities, Sunshine Division and Our House in Portland.
Witchcraft is in, and apparently, so is paddleboarding.
Sign up here for our daily Thrillist email and subscribe here for our YouTube channel to get your fix of the best in food/drink/fun.
Eliza Dumais is a news writer at Thrillist who loves witches and hates paddleboards. Follow her on Twitter for proof.