'Gangnam Style' Is No Longer YouTube's Most Viewed Video of All-Time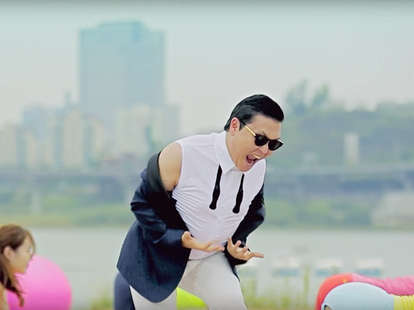 OFFICIALPSY/YOUTUBE
OFFICIALPSY/YOUTUBE
For a good long time, Psy's butt-screaming, invisible horse-riding, coach bus-dancing video for "Gangnam Style" has reigned as YouTube's most-watched video of all-time. The catchy satire of South Korea's 1% broke YouTube's view counter when it came out of nowhere in 2012 to be the world's most ubiquitous modern video.
It's been perched atop the list of the biggest YouTube videos, even as videos now break the billion-view mark with more frequency. "Gangnam Style" was the first to do it, but now more than a dozen videos have surpassed the two billion-view mark.
Now, the day has come for Psy to pass the torch. Wiz Khalifa's car-bedazzled tribute to Paul Walker, "See You Again," is now the most-watched video in YouTube history.
The video has now been viewed more than 2.9 billion times. It's poised to become the first video to cross the three billion-view threshold.
Though, Wiz might not wear the crown for as long as Psy did. Luis Fonsi's "Despacito" (sans Justin Bieber, whose "Sorry" ranks third all-time) has put together 2.5 billion views in just five months. That's a damn good pace.
Sign up here for our daily Thrillist email, and get your fix of the best in food/drink/fun.
Dustin Nelson is a News Writer with Thrillist. He holds a Guinness World Record but has never met the fingernail lady. Follow him @dlukenelson.