Woman Stranded in Australian Outback Survives on Boiled Water, Biscuits, Vodka Mixers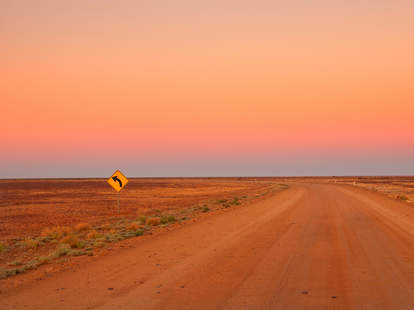 I'm a chronic over-packer. Twelve bathing suits for a three-day trip? I'm accounting for outfit changes. That shirt I haven't worn in three years? Better bring it just in case. Forty-nine pairs of socks in sandal season? Better safe than sorry. 
Criticize all you want, just don't come crying to me when you're stranded in the Australian Outback. I'll be prepared. Much like the actual Aussie woman who survived on boiled water, a pack of biscuits, beef noodles, and vodka mixers for 12 whole days. 
Along with two friends, 52-year-old Tamra McBeath Riley set out for on a drive November 19, BBC News reports. However, the group found themselves stranded after the car became stuck in a riverbed. 
"We tried so many times to get out, but just couldn't get out, the river was too large," McBeath-Riley told the outlet. "During the day it's just really hot so we dug ourselves under the car into the sand. At night [we] could sleep in the car."
After draining their supply, the trio located a watering hole where they were able to boil water and filter it through a shirt. NT Police Superintendent Pauline Vicary informed reporters that, though the water was "quite dirty" and "not hygienic," it's what kept them alive.
Eventually the group split up to seek help. McBeath-Riley remained at the car out of fear her dog wouldn't survive the journey while her pals set out on foot towards the highway. Police eventually found her nearby and transported her to a nearby hospital for severe dehydration. Sadly, her friends Phu Tran and Claire Hockridge are still missing.
"It's quite a diverse terrain," Vicary added. "There are sandy dunes, there's hard clay, there are areas of dense trees but there is also rocks and ranges in the area as well."
h/t Travel & Leisure
Sign up here for our daily Thrillist email and subscribe here for our YouTube channel to get your fix of the best in food/drink/fun.
Megan Schaltegger is a staff writer at Thrillist. Follow her @MegSchaltegger.