Why Women Should Always Make the First Move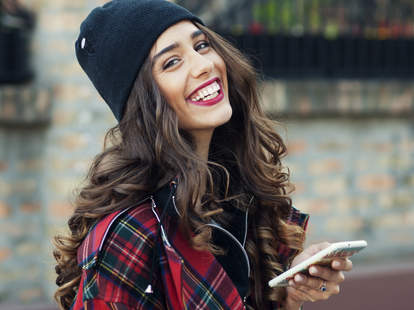 It might not be how your parents went about courtship, but then again, your parents didn't meet on Tinder. In today's online dating world, the woman needs to make the first move -- and there's actual data to back that up.
Recently released OKCupid data shows that if a woman sends the first message, she's 2.5x more likely to get a response than when a man initiates. Now sure, getting a flood of unsolicited dick pics isn't the worst thing in the world, but another statistic shows women will get better quality dick pics (and the guys attached to them) too.
If a woman simply sits back and lets the messages flow into her inbox, she'll receive messages from guys that are on average five percentile points ​less attractive​ than her. However, if a woman reaches out first, not only will she get tons of responses, she'll get responses from men that are seven percentile points ​more attractive than her. As OKCupid puts it, "If you typically wait to be approached, you could elevate your game by about 12 percent points just by sending the first message."
Basically, this means women have an incredible advantage on dating apps as long as they're willing to make that first move.
Go ahead. Make my day. Wait, that's Dirty Harry. Go ahead. Make the first move.
There we go.
Sign up here for our daily Thrillist email, and get your fix of the best in food/drink/fun.
Kara King is a News Writer at Thrillist and has never made the first move. Send news tips to news@thrillist.com and follow her at @karatillie.