In what has since been declared the biggest single-day protest in American history, more than four million people took to the streets across the US for the 2017 Women's March. Almost exactly a year later, millions of people will again flood the streets of Las Vegas, New York, Washington, DC, Los Angeles, and other cities for the 2018 Women's March on Saturday, January 20, to continue the peaceful fight for equality. The massive demonstration will paint over blues and reds of divisive politics with the pink of resilience and solidarity. 
There will also be posters. Thousands upon thousands of posters -- each bearing a message in support of women's equality, racial equality, LGBTQ+ rights, immigrant rights, and basic human rights for all, among other important causes. Making a poster for the march is easy. All you need is a poster, big markers, and maybe some sort of makeshift handle to help you carry it. Perhaps the hardest part is deciding on what you'd like your poster to say to the world. We've gathered a few ideas (listed below) to serve as inspiration, so you show up to your local march prepared.
Recommended Video
Tijuana's Lucha Libre Is Like Watching a Live-Action Comic Book
Powerful Women's March Poster Ideas
Sure, a single cardboard poster will likely never capture an entire movement. But add your poster to a sea of thousands of others, and its powerful message will be unmistakeable. The 2017 Women's March proved this with countless posters -- from handwritten personal pleas to longtime marching chants in bold letters. Here are some highlights:
"Respect My Existence, Or Expect My Resistance"
"Make America THINK Again"
"Women's Rights Are Not Up for GRABS"
"Build Bridges Not Walls"
"I March Because Someone Long Ago Marched For Me"
"My Body, My Choice. My Vote, My Voice"
"A Woman's Place Is In The Resistance"
"Nasty Women Unite"
"This Is What REAL AMERICA Looks Like"
"Do Not Be Silent, Do Not Be Violent"
"Babes Against Bullshit"
"Silence Is Violence"
"Resist Fear, Assist Love"
"Forward Not Backward"
"I Will Not Go Quietly"
"We Are Not Ovary-Acting"
"We The People Are Pissed"
"My Country Is Better Than This"
"The Estrogen Empire Strikes Back"
"I Am Woman Hear Me Roar"
"I Will Not Be Silent Because of Fear"
"Respect All Human Rights"
"Made In Vagina"
"We Deserve Better"
"Misogyny Kills"
Feminist Women's March Poster Ideas
Want to know what feminism looks like? Just check out the posters waving in the air at the Women's March. Here are some highlights from previous marches:
"Keep Your Laws Off My Body"
"Patriarchy Is For Dicks"
"I Have a Brain, A Uterus, And I Use Both"
"Her Body, Her Choice"
"The Future Is Female"
"The Future Is Nasty"
"I Will Fight For My Body"
"I'm A Powerful Woman"
"Viva La Vulva"
"Fight Like A Girl"
"Proud To Be A Feminist"
"Our Bodies, Our Minds, Our Power"
"We Should All Be Feminists"
"A Woman WILL Be President"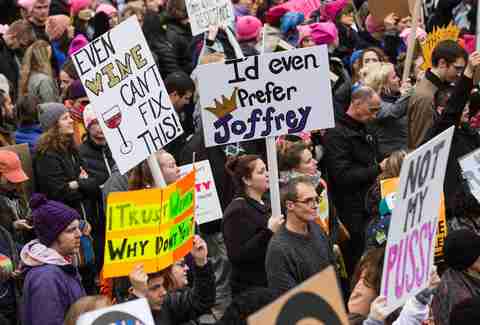 Funny Women's March Poster Ideas
Sometimes humor is your most powerful weapon. It makes people laugh, yes, but it also makes them think. With that said, you'll be hard pressed not to see dozens of funny (and powerful) posters at the march. Examples from previous demonstrations include:
"Uteruses B4 Duderuses (In Congress)"
"Thou Shalt Not Mess With Woman's Rights -- Fallopians 4:28"
"Girls Just Wanna Have Fun-damental Human Rights"
"Love Everyone Like They Are Pizza!!!"
"Even Wine Can't Fix This"
"We Are Not Ovary-Acting"
Women's March Poster Ideas for Men
Obviously, men can carry many of the same posters listed above while marching in solidarity at a Women's March. But if you really want to go above and beyond to stand up for feminism, equality, and equal treatment, guys have provided plenty of damn good poster examples in recent years. Here are a few examples you can use as inspiration:
"Real Men Are Feminists!"
"Solidarity Is Our Strength"
"My Wife Is Pissed"
"Strong Men Don't Need To Put Down Women To Feel Powerful"
"Justice For All"
"You Fuck With My Sisters, You Fuck With Me"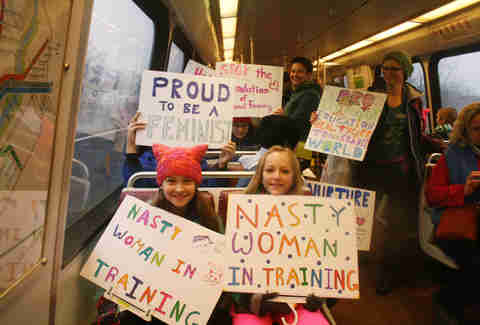 Women's March Poster Ideas for Kids
If you've attended an equal rights demonstration, then you've probably witnessed firsthand how kids are often among the most passionate people in the crowd. Their signs, of course, tend to match that. Here are some examples:
"Nasty Woman in Training"
"I Can't Walk, But I Will March!"
"Future Feminist On Board"
"Kids 4 Equality"
"Girl Power"
"Voter in 2030"
"I Like Playing With Friends From Everywhere"
Sign up here for our daily Thrillist email and subscribe here for our YouTube channel to get your fix of the best in food/drink/fun.