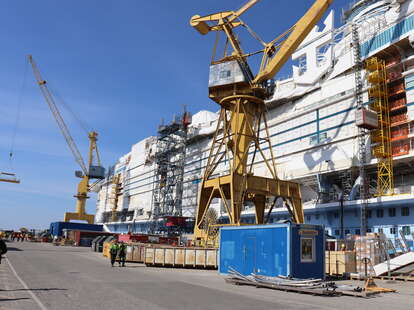 The view as you walk about to the biggest cruise ship in the world. Notice how it doesn't even fit in the frame—there's a lot more ship to the right.

| Photo by Tony Merevick for Thrillist
The view as you walk about to the biggest cruise ship in the world. Notice how it doesn't even fit in the frame—there's a lot more ship to the right.

| Photo by Tony Merevick for Thrillist
Royal Caribbean's new, over-the-top cruise ship, Icon of the Seas, won't welcome its first paying passengers until sometime in January, 2024. In fact, the company won't even receive the finished vessel from its shipbuilder until this fall, with construction pacing at around 75% as of mid-May. And yet they recently welcomed Thrillist aboard the incomplete Icon for a super-rare and super-early first look.
As you'll see in the video and series of photos below, it was a tour unlike any other.
Icon of the Seas—the first of three ships in Royal Caribbean's new Icon class—is already an absolute behemoth. It will be the biggest cruise ship in the world, surpassing the already stupendous current title holder, Wonder of the Seas (from Royal Caribbean's Oasis class of ships), in gross tonnage, a measure of a ship's internal volume.
When completed, she'll measure 1,198 feet long and boast 18 passenger decks (20 in total), seven pools, nine whirlpools, and six record-breaking waterslides, including the tallest drop slide ever on a cruise ship. The ship will have capacity for 2,350 crew members and 5,610 passengers with its 2,805 state rooms at double occupancy (7,600 passengers maximum), according to the company.

Here's Thrillist's Managing Editor Tony Merevick (me) reporting from the bustling Meyer Turku shipyard in Turku, Finland, just steps away from Icon of the Seas. Reporters and execs were required to wear hard hats and other protective gear while touring the ship.
Most of the ship's exterior was covered with protective tarps at the time of the tour, which underlined the great deal of work yet to be done. At this point, the special nature of the shipyard tour—the ability to get an up-close firsthand look at the very much unfinished cruise ship—started to set in big time.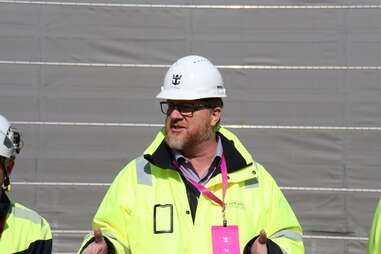 Tim Klauda, Royal Caribbean's VP of Product Development, led our tour through the labyrinth of unfinished halls and decks of the ship, many of which were partially obstructed by cables, scaffolding with low clearance (my hard had definitely came in handy a few times), and workers on ladders.
More than 3,000 workers were on and around the ship on the day of our tour. There were construction sights, sounds, and smells around every corner—cranes lifting enormous piles of metal, a cacophony of clanking and bells, and the smoky metallic fumes of a fresh weld. No throngs of people at the pool, or pitch-perfect Broadway musical performances, or savory buffet smells overload on this cruise experience. Not yet at least.
See that Royal Caribbean logo on the side of the ship? You can't really tell yet, but that's where a new attraction dubbed Crown's Edge will be located.
Here's the view from where you enter Crown's Edge. Thrill seekers will strap in and step over the side of the ship on this part skywalk, part ropes course, part heart attack 154 feet above the crashing waves.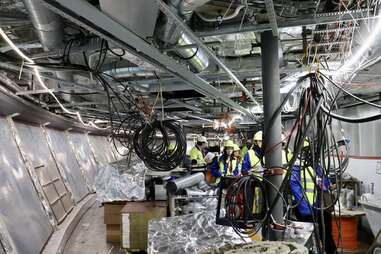 The ship's bridge—or cockpit, if you will—would normally boast some of the best views aboard, but as you can see, it wasn't quite ready for the captain and crew. The windows, for example, were covered with protective panels and a shocking number of wires and cables hung from the ceiling. Fun fact: Icon of the Seas is built with enough cable to wrap around the planet twice, according to Sascha Lang, VP of Architectural & Design, who also led our tour.
Icon offers 28 room options, including new rooms for families of three to five and beyond. Among the offerings are the Family Infinite Balcony, Surfside Family Suite, and even a three-story Ultimate Family Townhouse that will include a slide from the second floor.
Hundreds of interior and exterior balcony rooms like the one shown above will feature an extension that transforms into a balcony. With the push of a button, the top half of the window slides down to create an open air space with the middle frame of the window serving as the railing (you'll have to imagine ocean views instead of that white tarp). This will be the first Royal Caribbean ship to have this type of balcony, though it has appeared on ships from other brands like Celebrity.
Like with many other finishes, the stateroom bathrooms were upgraded over what you'll find on Oasis class ships. I found that this shower, while still very much crammed into a small cruise ship bathroom, is much bigger than the one I had in my room on Allure of the Seas.
As Royal Caribbean execs explained along the tour, many of the ship's staterooms are pre-assembled and fabricated elsewhere in the shipyard, then lifted and slotted into the ship. The tour walked by dozens of rooms on several decks of the ship that were still empty shells.
This is a view of what will eventually be Central Park, one of eight areas of the ship that Royal Caribbean refers to as "neighborhoods," each with a distinctive vibe and set of amenities to cater to various cruisers' interests and needs. Central Park is one of three "evolutionary" neighborhoods from previous ships that are returning on Icon with updates and upgrades. For example, Central Park will be the new home of Izumi, the company's beloved Japanese restaurant chain, along with a convenient walk-up sushi window.
There will also be five all-new, "revolutionary" neighborhoods across the ship: Thrill Island, Chill Island, Surfside, The Hideaway, and AquaDome.
Here's another view of a portion of Central Park, looking down at the approximate future location of Izumi from one of the upper decks of the ship.
The key thing to know about all neighborhoods on Icon is that they've been designed to be more connected and sort of flow into each other so it's easy for cruisers to walk from one to another. As Klauda explained, you—and everyone else on the ship—don't have to schlep to the same two elevator banks and staircases at either end of the ship to get around.
"Elevators are something all of our guests hate—they hate our elevators," he said. "On this ship, you've got lots of staircases and other things between the neighborhoods. I can stand in Central Park, walk down through the middle of it, I can be in the Royal Promenade, I can walk out to Surf Side, I can go back down through the other part of the Promenade, I can get into the casino—all without ever seeing a lift. Which, if you're a cruiser, you know that's where you see the most people and they're pinch points."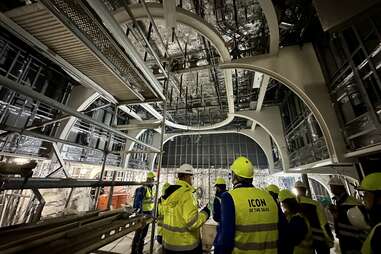 Our tour guides wouldn't tell us exactly what the above space—with high decorative ceilings and zero windows, right off Central Park—would be at the time, but now that the company has released more details on the dining options aboard Icon, it appears to be the swanky, eight-course tasting menu restaurant, Empire Supper Club. The concept is described as "an extravagant night out with a taste of old New York," according to the company. A three-piece band will add to the vibes as guests dine on elevated American cuisine.
Along with returning favorites like Giovanni's Italian Kitchen & Bar, Dining Room, and the aforementioned Izumi (among others), there's a long list of all-new dining options debuting on Icon—AquaDome Market (Royal Caribbean's first food hall), Celebration Table (a 12-seat VIP spot for special occasions), and Pier 7 (all-day brunch located in the Surfside neighborhood), to name just a few.
And, obviously, you'll find plenty of places for drinks and nightlife throughout the ship. Speaking of, we still haven't quite recovered from the name of the brand's first-ever swim up bar, revealed last October: Swim & Tonic.
Icon wouldn't be a megaship without a ridiculous portfolio of water slides snaking over the upper decks. There were only a few segments of slides installed at the time of our visit, but if you listened hard enough, you could already hear children screaming.
The slides are part of the Category 6 waterpark, which spans a bit over 17,000 square feet of the Thrill Island neighborhood on decks 16 and 17. Here are a few of their impressive stats:
Frightening Bolt: At 282 feet long and 46 feet tall, it will be the tallest drop slide at sea.
Pressure Drop: The first open free-fall slide at sea, it has a 66-degree incline and measures 108 feet long.
Hurricane Hunter & Storm Surge: These are the first family raft slides at the sea—425 feet long and 395 feet long, respectively.
Seeing the water slides in progress was exciting, but much of what we witnessed on the tour was the unvarnished interior walkways and halls.
Another sight you don't see every day on a cruise: notes and doodles on the stateroom doors. It's unclear if the above is supposed to be a sad cat or a demon, but if you ever end up staying in cabin number 12172, it might be something to think about.
There were also a shocking number of other kinds of doodles drawn all over the ship, including the freight elevators, which made for many too-easy jokes along our journey. "Icon of the Seas? More like Phallus of the Seas, amirite," said someone who definitely was not me.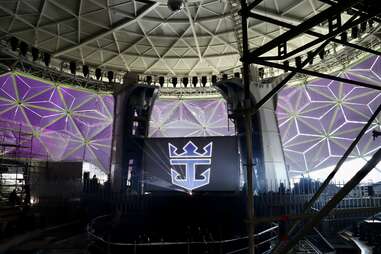 The crown jewel of Icon—it's literally above the bridge at the front of the ship—is the AquaDome. During the day, it will be a place to chill with a snack or a drink and enjoy its 220-degree ocean views and 55 foot-tall waterfall, but at night it becomes an entertainment hub with acrobatics-filled water shows enhanced with all sorts of bells and whistles that are too nerdy to list here.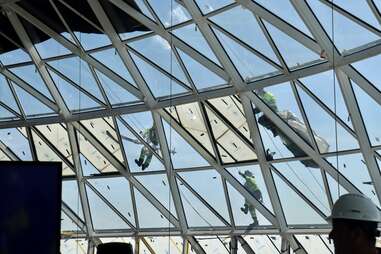 At 82 feet tall and 164 feet wide, the dome had to be constructed in another areas of the shipyard and carefully lowered onto the front of the ship. Workers repelled down the exterior to work on the glass as we walked through—just another thing you don't see on a cruise every day.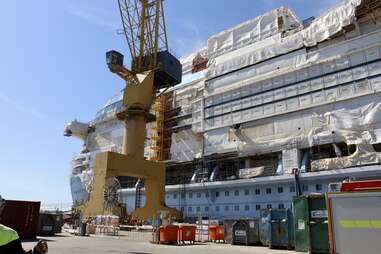 "Everything about Icon is just unbelievable." That's how Michael Bayley, Royal Caribbean International's president and CEO, summed up the ship at a press conference during the tour.
"We think it's going to be the best family vacation in the world," he said. "All of the energy and time that's gone into creating this ship is just mind-blowing. As I walk around the ship, I'm delighted and excited, and I hope you have the same feelings as you spend time looking at the ship."
Delighted and excited would be understatements, of course. The overwhelming feeling I had as we walked away from the ship was plain awe—and not the type of awe that's expected when you witness the ship's immense size and flashy attractions. Instead, I finally appreciated the truly absurd amount of time, effort, and resources that go into building a floating vacation machine of this size after experiencing it firsthand. Cruising will never be the same for me.
Royal Caribbean and the folks at Meyer Turku have made significant progress on the ship over the last few weeks since the tour. Protective wrapping is coming down, lifeboats are being installed, and additional water slide segments are going up. The ship is expected to enter sea trials soon. And pending any unforeseen issues or delays, Royal Caribbean will take delivery of the ship in October. Her maiden voyage, a seven-night Eastern Caribbean cruise out of Miami, is slated for January 27, 2024.