These Airports Are the Worst for Summer Flight Delays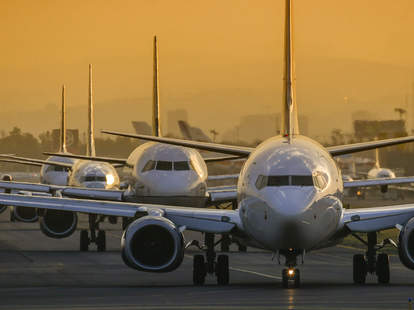 If hell is other people, then spending hours in an airport surrounded by them as you wait for a delayed flight is a fate far, far worse. A new ranking by the travel rewards site MileCards.com confirmed this today with some hard numbers, listing off the airports with the worst track records for on-time summer travel.
To the shame of New Yorkers, the city -- predictably -- has by far the worst rates in the nation: all three of the major airports make the top four worst airports for summertime delays. Flights to John F. Kennedy International Airport, the fourth-to-worst, arrived on-time at an average rate of 69.2% in the 10-year span from 2007-2016, the study reports. Then came San Francisco International Airport, at 69.0%. Second place went to LaGuardia Airport, at 66.9%, according to a report by Condé Nast Traveler.
As for the worst in the country, New Yorkers can at least take cold comfort in the fact that it's physically located in New Jersey, even if it does serve the whole tristate area. Congratulations to Newark Liberty Airport, a contemptible circle of hell that somehow manages 66.5% on-time arrivals -- barely enough for D-minus.
As far as this list goes, the best airports in the country are located in Hawaii. Maui's Kahului Airport topped the list at 88%, with Honolulu Airport following with 86.5%. Sunny Hawaii is about as far from NYC as you can get, so it makes sense.
To arrive at these numbers, MileCards.com looked at Department of Transportation data between 2007 and 2016. They crunched the numbers for the 50 busiest airports in the country across 10 summers, finding that 40% of those airports have more flight delays in the summer than the winter. (This makes sense given how seemingly minor shifts in temperature can affect planes.) They also found that June is the most-delayed month of the year, by a long shot: 76% of those airports have more delays in June than July or August.
Check out the 10 most-delayed airports in the country and have a look at the full list from worst to best in MileCards.com's infographic below.
10. John Glenn Columbus International Airport
9.   Ronald Reagan Washington National Airport
8.   Miami International Airport
7.   Philadelphia International Airport
6.   O'Hare International Airport
5.   Logan International Airport
4.   John F. Kennedy International Airport
3.   San Francisco International Airport
2.   LaGuardia Airport
1.   Newark Liberty International Airport
Sign up here for our daily Thrillist email and subscribe here for our YouTube channel to get your fix of the best in food/drink/fun.