Hurry, You Can Get $99 Flights from the Midwest to Europe Now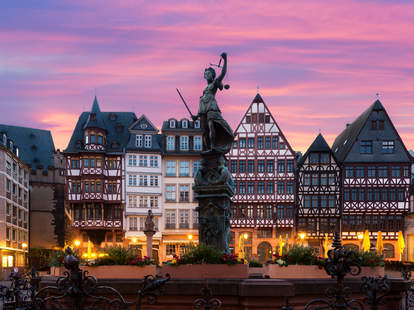 It looks like pretty soon, flights to Europe from cities in the midwestern United States are going to look just as cheap as those taking off from the East and West Coast, at least if budget airlines like WOW Air have anything to say about it. The Iceland-based carrier known for its cheap flight deals to Reykjavik, Iceland, and other European cities has just announced that will open up new hubs from the Midwest in 2018. The cities and airports on the docket: Detroit, Cincinnati, Cleveland, and St. Louis.
Accordingly, WOW is putting flights to Europe on sale right now for as low as $99 from each of those cities, while availability lasts. The $99 one-way trips fly out on select dates from each of the new hubs in the Midwest and go to Reykjavik, Iceland, while one-way flights to other European cities will cost $149 each. That's still not a bad rate if you've always wanted to visit places like Amsterdam, Paris, Copenhagen, Dublin, Frankfurt, London or Berlin; you can get to all of those locations via Iceland on these trips. The flights are all available to book at wowair.us as of Wednesday, and service begins from the four new US hubs on the following dates:
Detroit on April 26
Cleveland on May 4
Cincinnati will be May 10
St. Louis on May 17
You'll have to hunt around a bit on WOW Air's website to find available dates matching the cheap prices, as the cheap tickets are going fast. The offer applies to between 500 and 600 seats from each destination on dates that range from
late April to June 26
(varying by the departing city) and
August 25 to October 30 of 2018
. We'd recommend digging through WOW Air's site and grabbing what makes sense to you while the seats last.
As with any budget airline, remember to book responsibly. These may be cheap tickets and WOW Air's legroom is pretty sweet compared to its competitors, but they are also known for charging for things like peanuts, cups of water, and its stringent carryon and checked-bag policy. Just do your research before pulling the trigger on any trip; this guide to WOW Air is a pretty good one.
Sign up here for our daily Thrillist email and subscribe here for our YouTube channel to get your fix of the best in food/drink/fun.