There's a Flash Sale With $260 Roundtrip Tickets to Europe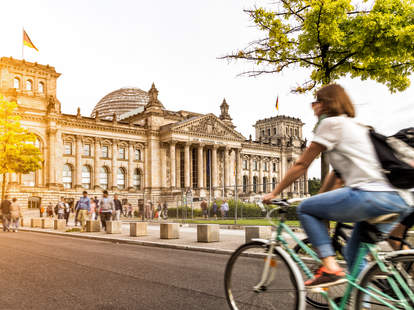 Maybe you didn't get what you hoped for on Valentine's Day. Maybe you didn't have anyone to not get you what you hoped for on Valentine's Day. Either way, it's probably time to treat yourself.
WOW Air has a Valentine's Day flash sale with very affordable prices heading to Europe from many locations in the U.S. Flights can be found as cheap as $260 roundtrip. WOW is advertising the flashier headline of one-way tickets for $69.99, but if you're like most people, you'll want to go home after your vacation. After a little digging, you can find trips at that $260 price and that's even on trips from the U.S. west coast to Europe (San Francisco to Copenhagen is $269).
screengrab wowair.us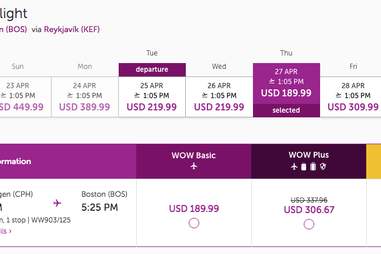 screengrab wowair.us
Their new deal booking page takes a little navigating, but there are flights leaving from Boston, Los Angeles, Miami, New York, Pittsburgh, San Francisco, and Washington D.C. carrying departure dates from March through October.
The deals are taking you to one of four locations (and the easiest way to dig up prices is to follow one of these links to the deal page for that destination city). You can head to Berlin, Germany; Copenhagen, Denmark; Frankfurt, Germany; and Stockholm, Sweden.
It's worth noting the airline you'd be flying with at this point. You'd be flying with WOW Air, which is a budget airline. Often, the tickets are cheap, but if you bring more than a backpack you get nicked for luggage fees (this can include a carry-on fee). So, this can be a cheap trip, but it's worth looking into the fees before you book and are surprised to find out that the flight isn't nearly as cheap as you were anticipating. However, if you can pack super light, they're a good option to get to Europe on a budget.
Sign up here for our daily Thrillist email, and get your fix of the best in food/drink/fun.
Dustin Nelson is a News Writer with Thrillist. He holds a Guinness World Record but has never met the fingernail lady. He's written for Sports Illustrated, Rolling Stone, Men's Journal, The Rumpus, and other digital wonderlands. Follow him @dlukenelson.