Quick, $229 Round-Trip Flights from NYC to Iceland Are on Sale Right Now
Although we're not about to list the numerous reasons why 2016 absolutely sucked, there's a good chance the spectacularly crappy year has left you itching to get the hell out of town for a while. Well thanks to a new deal from WOW air, you can make a much-needed escape with round-trip flights from NYC to Iceland for as low as $229 right now. Damn.
The discount airline is celebrating the launch of its new route to NYC via Newark Liberty International Airport by offering outgoing flights to Reykjavik, Iceland for just $99 with potential return flights starting at $129. As with any big airfare sale, though, the crazy-cheap flights are only available for certain travel dates, so you'll have to be flexible. Specifically, WOW said the $99 outgoing flights from NYC (EWR) to Reykjavik (KEF) are only available on Mondays from January 16, 2017 through April 10, 2017, and again from April 24, 2017 through May 15, 2017.
As for return flights, the dates are similarly limited and with no discernible pattern on the calendar. We did some poking around and found the lowest prices were $129, $149, $169, but could be significantly higher depending on when you plan to fly back. Thankfully, the airline uses simple calendars on its website that make it easy to see all the outgoing and return flights at the discounted prices, with the "best price" highlighted in yellow. Here's a look at the prices and availability in January, for example: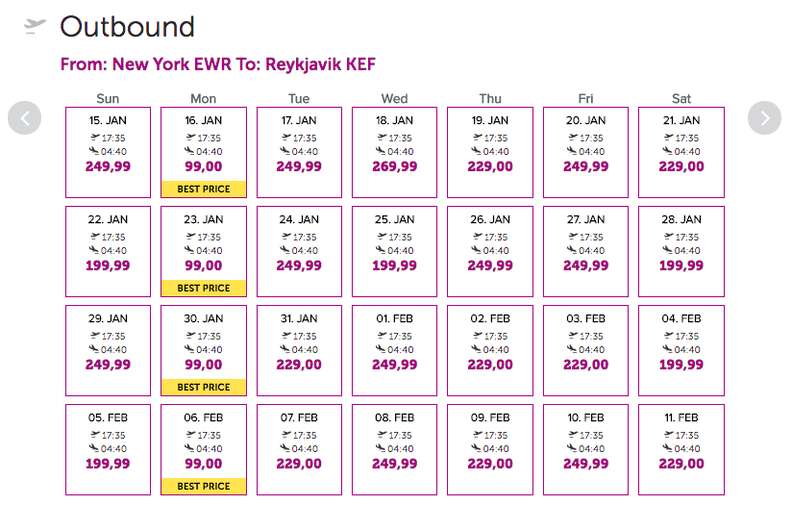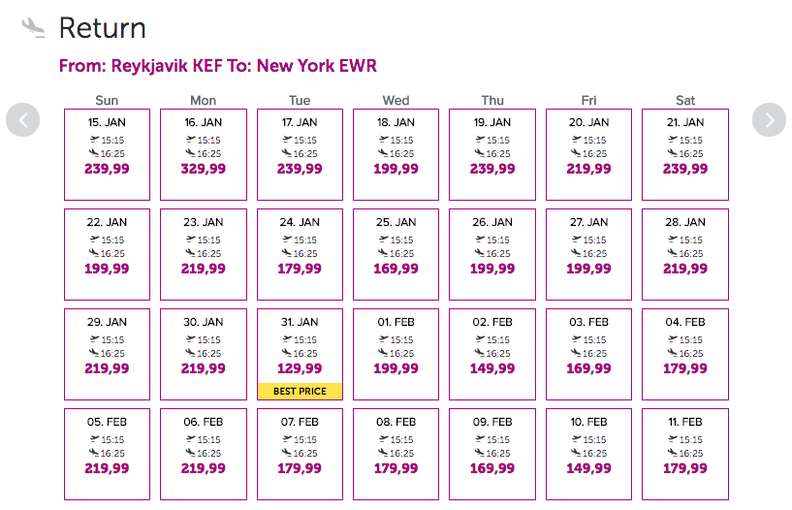 All you have to do is click through the calendars to find the cheapest outgoing flights as well as the cheapest return flights. Sure, you'll have to drag yourself all the way to Newark, but with any luck, the deals will fall on dates that actually work for you. You can do the same via Google Flights, if you're more familiar with that. Here's an example of an itinerary available in May next year for $229 ($99.99 for the outgoing flight and $129.99 for the return flight):
Again, you'll have to play around with the dates a bit to find a cheap trip that fits your schedule, which means you should probably stop reading this right now and get booking. We've already spotted at least one "flight full" label on WOW's website, so tickets might be going fast. Get out of here while you still can.
Sign up here for our daily Thrillist email, and get your fix of the best in food/drink/fun.
Tony Merevick is Cities News Editor at Thrillist and would love to visit Iceland someday. Send news tips to news@thrillist.com and follow him on Twitter @tonymerevick.