If there's one thing Apple doesn't like to be, it's behind the curve. That's why it's surprising that it's taken so long for the company to enter the smart speaker market, a product space that both Google and Amazon have made their mark in with Google Home and Echo, respectively. But during today's Worldwide Developer Conference, after unveiling iOS 11, Tim Cook capped off the keynote by announcing the HomePod, a Siri-equipped wireless speaker the company thinks can crush the competition.
Recommended Video
Please Don't Hang Up: Miami
Criticisms of its name notwithstanding, it's pretty damn sexy. The sleek and cylindrical device is less than seven inches tall, comes in white or space grey, and vaguely resembles the Mac Pro. Inside, it's packed with woofers and seven "beam-forming" tweeters designed to prevent distortion at even highest volumes. It's also equipped with six voice-enabled microphones, which can pick up your commands from across the room, even when it's playing something loudly.
The one feature that really sets the HomePod apart is its built-in "room-sensing" tech, which enables it to optimize its audio output based on its position in a space. In other words, it can recognize whether it's on a shelf, in a corner, or resting in the middle of a room, and adapt accordingly to create the best-possible "immersive" experience.
Like Amazon's Alexa and Google Assistant, it's similarly packed with Apple's proprietary AI assistant, Siri. This means you can reasonably expect it to help you answer any number of questions you'd ask Siri elsewhere in the Apple ecosystem, and queue up any number of playlists, artists, albums, or tracks from the Apple Music library. Alternately, you can manually control playback remotely from any Apple device. However, it's unclear yet if it will support streaming via any other music services like Spotify or Tidal via voice (or whether that will even be a function you can enable via connected devices).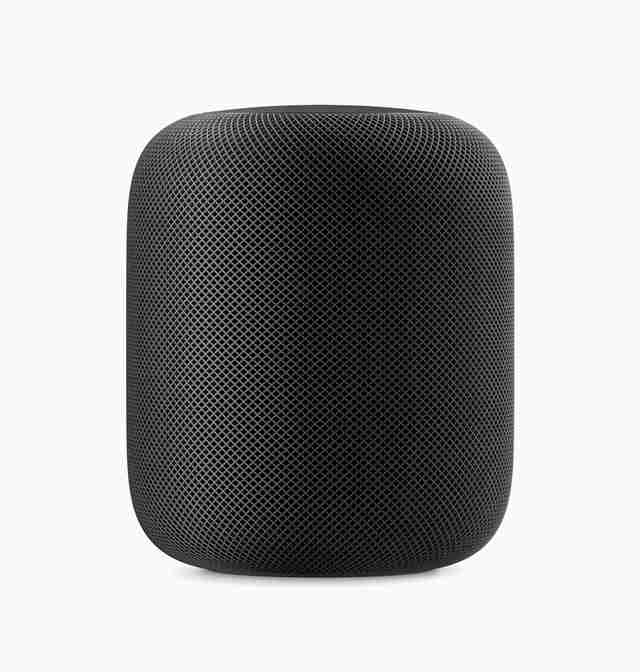 The HomePod will hit shelves in December -- in the US, UK, and Australia -- for $349.
Sign up here for our daily Thrillist email and subscribe here for our YouTube channel to get your fix of the best in food/drink/fun.