Trojan's New Condoms Don't Even Look Like Condoms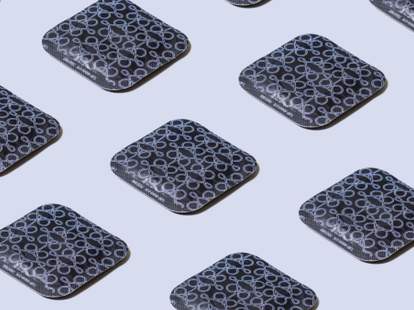 Looking at condom purchasing habits, Trojan noticed discrepancies between what people say and what they do. An Indiana University Center for Sexual Health study found 68% of women disagree with the notion that purchasing a condom is solely a man's responsibility. The study also found only three percent of women carry a condom regularly and just 18% purchased a condom for their last sexual experience.
"Ultimately, it impacts two lives for both STIs and unintended pregnancy," says Trojan group brand manager Stephanie Berez. "The responsibility really needs to be with both parties." Over the last four years, Trojan has worked on a new product they hope addresses these issues and increases instances of safe sex. It's called XOXO by Trojan.
A new approach to aesthetics coupled with changes to the actual condom, they believe, will help address that discrepancy which "all comes back to stigma," according to Berez.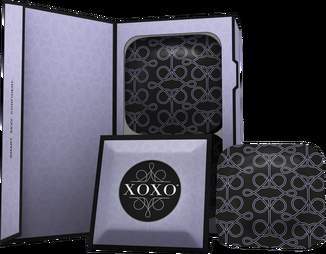 Trojan
The design has a unique feel and does away with the tongue-in-cheek approach the company is better known for. There's no boisterous Trojan Man, full of bravado, here. It's discreet with an eye toward aesthetics. The two inner cases and the individual pouches don't look like they're carrying condoms. The package also comes with a carrying case that holds two condoms and design that doesn't scream, "I'm full of condoms."
Outside of the look, they say their Softouch technology isn't being used by other companies and has a thinner, skin-like feel. That may be the case, but is a pretty common line for any new condom. They also claim to have largely done away with the latex smell -- XOXO has a "low latex odor" -- and it uses an aloe-infused lubricant.
"Our whole goal is to make the product accessible," says Berez. "We want to inspire people to have condoms on them." The accessibility component is there. Exact prices weren't shared at the time of publication, but Berez says they're similar to other lines. That puts it in stark contrast to other innovative condoms with a lifestyle focus, such as the pricey Lelo Hex.
While it's an upgrade with the individual experience in mind, it might not change the game. But Berez says that's not exactly their goal. They hope to make an impact "one user at a time."
Sign up here for our daily Thrillist email, and get your fix of the best in food/drink/fun.
Dustin Nelson is a News Writer with Thrillist. He holds a Guinness World Record but has never met the fingernail lady. Follow him @dlukenelson.