Yankees Fan Proposes on Jumbotron, But He Lost the Ring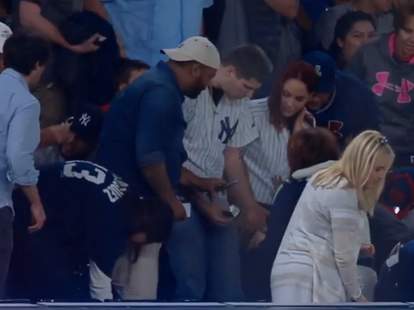 It's a tradition almost as old baseball itself: The jumbotron proposal. It's a pretty straightforward endeavor. The camera turns to the couple. One of them goes down to a knee. The crowd cheers when the "yes" nod comes and then it's time for the hug and kiss and the game is going again. Each one is roughly the same as the others, except for those rare occasions when it's not.
Take, for instance, a proposal at Yankee Stadium Tuesday evening. The camera turned to the couple. A man dropped to one knee. Then he realized that the ring box was empty. The camera cut away and the game is going again, leaving this episode of "Jumbotron Proposals" on a cliffhanger.
At least the game was going for everyone on the field. For the people around the nearly engaged couple, the search was on. The ring had fallen out of its box somewhere near the man's seat, and because people are kind, everyone was helping him look.
After some terrified looks of embarrassment, the ring was found, the proposal was back on, the couple was returned to the jumbotron, and she said yes. The best part may be the wild cheers of everyone standing around the couple, who suddenly had a lot invested in this engagement.
It was a happy ending to an embarrassing story that the couple will be telling for decades.
Sign up here for our daily Thrillist email, and get your fix of the best in food/drink/fun.
Dustin Nelson is a News Writer with Thrillist. He holds a Guinness World Record, but has never met the fingernail lady. He's written for Sports Illustrated, Men's Journal, The Rumpus, and other digital wonderlands. Follow him @dlukenelson.