Walmart Is Hosting a Live Concert for the Viral Yodeling Boy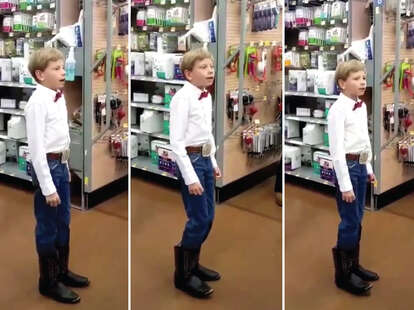 TWITTER/@DUMBASSVEGAS
TWITTER/@DUMBASSVEGAS
Even in a world with such absurd memes as Salt Bae and the Tide Pod Challenge, few could have predicted that a video of a boy yodeling at a southern Illinois Walmart would become a mega-viral sensation. But here we are -- nearly two weeks after the clip first emerged and countless EDM remixes later -- and the yodeling hasn't stopped. In fact, the yodeling boy himself, Mason Ramsey, is gearing up for a performance at his local Walmart this week that will be streamed live on social media.
Just when you thought you've heard his rendition of "Lovesick Blues" about a zillion and a half times already, Walmart is giving everyone another chance to hear the 11-year-old perform at the retail superstore where it all started, a company spokesperson said. In what will likely go down as the yodeling event of the century, Ramsey will perform some of his favorite songs live from his hometown Walmart in Harrisburg, Illinois on Wednesday, April 11. The concert will start at 4pm CT/5pm ET and, best of all, it will all be streamed via Walmart's Facebook and Twitter accounts.
As of Monday afternoon, Walmart had not yet revealed the exact store aisle where the concert will take place, whether Ramsey will sport his signature bowtie-big belt buckle-boots look, or who will open the show before he takes the stage/endcap. In recent days, Walmart tweeted a call for opening acts, tagging artists like Katy Perry, Blake Shelton, Shawn Mendes, and others with the hashtag #YodelChallenge. If anything, someone should hit up Steve Aoki.
In any case, get ready for a fresh wave of yodeling boy memes and dance music remixes.
Sign up here for our daily Thrillist email and subscribe here for our YouTube channel to get your fix of the best in food/drink/fun.


Tony Merevick is Senior News Editor at Thrillist and hopes he performs the EDM remix. Send news tips to news@thrillist.com and follow him on Twitter @tonymerevick.