The Walmart Yodeling Kid Got Remixed and It's Surprisingly Kind of a Banger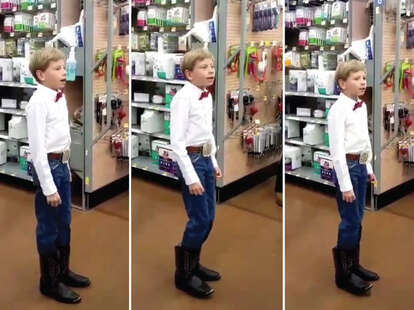 Yodeling at Walmart is a great American tradition that flew under the radar for a while. Then, 10-year-old Mason Ramsey donned his finest belt buckle and lit the internet on fire with a rendition of "Lovesick Blues" next to a Walmart checkout line in Harrisburg, Illinois, and a new meme was born.
But because this is 2018 and everything that goes remotely viral manages to germinate into something larger with merchandising potential, Ramsey's little foot-tapping tune has been remixed.
As everyone online suddenly started talking about yodeling, Twitter user @lowercase464 posted an EDM version of the song, admitting somewhat astutely, that "there should probably be some sort of law prohibiting this."
Because @lowercase464's remix was scarily kind of a banger, copycats soon followed. Alex Medina posted another remix earlier this week, which is also scarily banging. This trend can only mean that the ball is probably now in Kanye's court when it comes to digitally enhancing impromptu yodeling recitals at Walmart.
As previously noted, Ramsey is a prolific Walmart yodeler. After he was spotted singing another Hank Williams Sr. song at the market earlier this year, he was invited on a local radio show to demonstrate his skills. The boy's lovelorn singing has really struck a chord with the internet for some reason -- perhaps it's the universal feeling of powerlessness we all face while flocking en masse to a discount grocer, such as Walmart, or the paralyzing fear of dying cold and alone that draws us to his wobbling young voice. Whatever it is, a longer version of the video is still trending on YouTube nearly a week after it hit the web, which means the kid was clearly on to something!
Ramsey has swiftly become one of the world's most popular memes, which can only mean that he'll captivate the internet for at least another week.
[h/t Mashable]
Sign up here for our daily Thrillist email and subscribe here for our YouTube channel to get your fix of the best in food/drink/fun.
 
Sam Blum is a News Staff Writer for Thrillist. He's also a martial arts and music nerd who appreciates a fine sandwich and cute dogs. Find his clips in The Guardian, Rolling Stone, The A.V. Club and Esquire. He's on Twitter @Blumnessmonster.