Yoplait Is Turning Starbursts Into the Yogurt of Your Childhood Dreams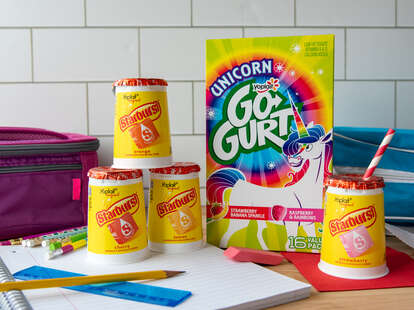 Starburst
Starburst
Yoplait has been around for so long that it's not even a yogurt brand anymore. The company is basically our parents. And now our parents are finally letting us have candy-related items for breakfast. Take that, non-corporate mothers and fathers, who wanted what's best for our gut and so forced us to eat yogurt instead of milk poured over our entire stash of Halloween candy.
Yoplait just announced that it's "putting a spin" on our favorite Starburst flavors: AKA strawberry, cherry, lemon, and orange, AKA Cherry. There is no debate here, strawberry-loving swine. And you, lemon-lover, who the hell raised you?
Here's the thing... Although I believe yellow is an OK Starburst flavor, I'm not sure it'll translate into yogurt well. You'll just have to go grab this limited-edition Yoplait Starburst product when it's available at major retailers nationwide in January 2020 to find out for yourself. And if you vibe more with Go-GURT, you can look forward to Raspberry & Rainbows and Strawberry Banana Sparkle.
This isn't the first unexpected spin on Starbursts we've seen this year -- the candy has already made gum, and a few years ago, it decided people needed spicy Starbursts. So our corporate daddy and mommy are basically losing their minds, and we're oh so here for it.
Sign up here for our daily Thrillist email and subscribe here for our YouTube channel to get your fix of the best in food/drink/fun.