See Gorgeous Photos of the 2021 Yosemite 'Firefall'
It's an incredible sight.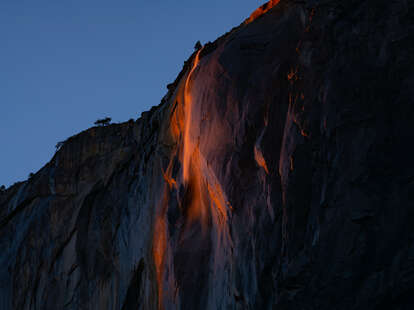 AaronP/Bauer-Griffin/GC Images
AaronP/Bauer-Griffin/GC Images
The "firefall" at Yosemite National Park is a spectacular sight that can be hard to catch under the best circumstances.
For a brief period almost every year, Horsetail Fall catches the sun in a way that makes it look as though fiery lava is tumbling over the eastern edge of El Capitan. It, however, only appears for a little while, and it doesn't necessarily happen every year. This year, because of the COVID-19 pandemic and its growing popularity, Yosemite required reservations to view the "firefall," which appeared for about 10 minutes every night over a period of just less than two weeks.
Fortunately, unlike in 2020, visitors were able to see the "firefall" and capture spectacular photos of the sight. Here are a few of the images that park-goers shared on social media.
Horsetail Fall generally only flows in the winter, according to the National Park Service (NPS), which also notes that it's easy to miss. Horsetail only turns into the firefall, glowing brilliantly, when it's backlit by the setting sun. The NPS says that "even some haze or minor cloudiness can greatly diminish or eliminate the effect." It's a special sight. Though, if you go next year, pay attention to park guidelines. The growing popularity of the naturally-occurring phenomenon has led the NPS to put rules in place that limit the number of people who can see it to protect local habitats.
Sign up here for our daily Thrillist email and subscribe here for our YouTube channel to get your fix of the best in food/drink/fun.