Trains are a pretty great way to travel. Think about it: You can sleep, eat and lounge pretty comfortably in them, and even pretend to be living in the Gilded Age while sitting in your personal cabin and twirling your mustache, or sipping some tea.
But trains can also be impeccably cheap, and according to travel blogger Derek Low, you can take a scenic trip from coast-to-coast on Amtrak for as little as $213. Low conveys the beautiful trip from San Francisco to New York in great detail, describing everything from the food (pretty bland, to surprisingly good), to the multiple environments and landmarks he encountered.
Here's some of what you'll see on the trip, according to Low:
Coastal views of the San Francisco Bay
The Sierra Nevada mountains
Donner Lake
Northern Nevada desert
Beautiful desert sunsets
The Book Cliffs between Utah and Colorado
Beautiful Colorado Canyons and the Colorado River
Great Plains in Colorado and Kansas
Chicago
The upper Hudson River
If that sounds enticing, Low explains just how to nab tickets for the sojourn, which encompasses 3,397 miles across 11 states. The trip can cost as little as $213 if you buy California Zephyr and Lake Shore Limited tickets, which look like this: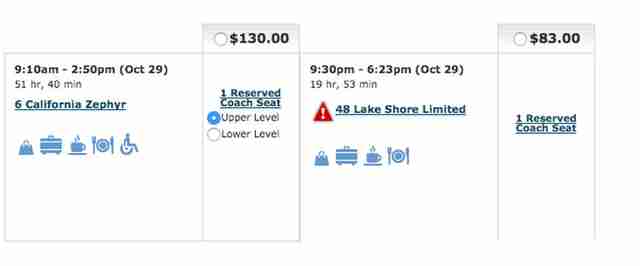 Low didn't exactly follow that route -- he notes that in 2011 he paid $429 for a 15-day rail pass -- so the choice is totally up to you. And in an even more inviting note, if you don't know how to go about booking your trip, you can have Low do it for you, for the cool price of $49.
Sign up here for our daily Thrillist email, and get your fix of the best in food/drink/fun.
Sam Blum is a News Staff Writer for Thrillist. He's also a martial arts and music nerd who appreciates a fine sandwich and cute dogs. Find his clips in The Guardian, Rolling Stone, The A.V. Club and Vice. He's on Twitter @Blumnessmonster.