Porn Company Bans Starbucks After Starbucks Bans Porn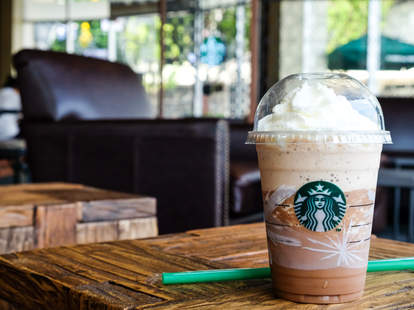 Call us old-fashioned, but we think watching porn at Starbucks is more than a little gauche. It's understandable, then, that Starbucks is rolling out filters that will prevent people from watching porn in its locations. That's fair. We respect that. But one pornographic website is reacting to this in the pettiest way possible, and we might respect that even more.
The site YouPorn (which you, no doubt, have never heard of before reading this sentence) has responded to the porn ban by banishing all Starbucks products from its hallowed halls. This information comes from Forbes, which received confirmation from YouPorn that a copy of a memo it had obtained was in fact genuine.
The memo read thus: "In light of the news that Starbucks has blocked customers from searching and viewing adult content within their establishments, Starbucks products will officially be banned from the YouPorn offices, effective January 1st, 2019."
Granted, this is all in good fun, and it's unlikely that anyone's going to be fired over this, and, in fact, it's exactly the kind of attention-seeking behavior that the porn industry is so good at using to get the media to give them free advertisement... like what's happening right now.
But that's OK. Because it's funny.
Sign up here for our daily Thrillist email and subscribe here for our YouTube channel to get your fix of the best in food/drink/fun.