America's Oldest Brewery Is Launching a Low-Calorie Beer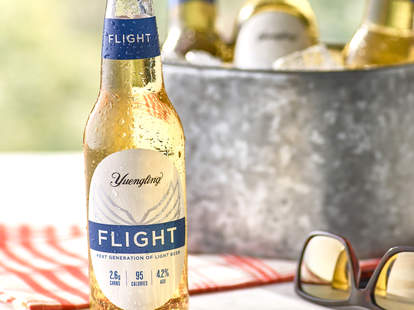 The company that calls itself "America's Oldest Brewery" is going to battle with Michelob Ultra and the world of light beers. Yuengling announced the release of a 95-calorie light beer called Flight on February 25. If that stats on the front of the label look familiar, that's because they're the same as Michelob Ultra. 
Yuengling is describing the 4.2% ABV beer as "elevated" and "upscale," though the company told Brewbound it will be "competitively priced to other premium upscale light brands." The move toward low-calorie beers is going to be a theme for many breweries in 2020 as they try to capitalize on drinkers focused on healthier lifestyles and attempt to chip away at the massive hard seltzer market. 
"Recognizing an opportunity in the light beer category, we have been working to deliver an upscale refreshment brand that fits within the active lifestyles of today's consumers," Jennifer Yuengling, vice president of operations, said. "Our family brewing business was built on providing consumers with a high-quality, great-tasting drinking experience for social occasions. We have spent more than a year perfecting Flight by Yuengling, taking the taste of this light beer to new heights."
Eh? "Heights"? Flight? Eh?
Flight is clearly making a play for Michelob Ultra's throne among premium light beers. The latter's sales rose 16.3% over the year leading up to January 26, per the research firm IRI. As with the growth of hard seltzer last year, a whole lot of low-carb, low-calorie beers are going to arrive in 2020, looking to take Michelob's spot as your favorite beer under 100 calories.
Flight will soar into stores in March, hitting all 22 states in which Yuengling distributes.
Sign up here for our daily Thrillist email and subscribe here for our YouTube channel to get your fix of the best in food/drink/fun.