The First Chocolate Beer From Hershey's Is a Collaboration With Yuengling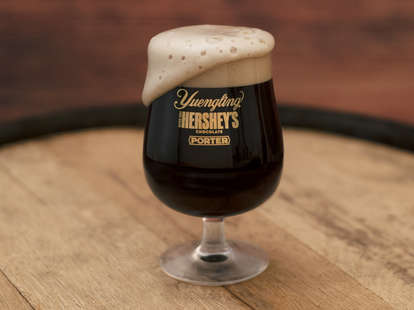 If you sit at the bar alternating bites of a chocolate bar and sips of beer, people will either believe you've lost your mind or that you're a genius. Beer and chocolate are a classic, time-tested combo. It could be a big barrel-aged beer or something that's got you ready for fall, but a little chocolatey flavor in your beer can be a very good thing. However, we don't usually associate that chocolate with the cloying sweetness of a candy bar. America's oldest brewery, Yuengling, is going to, at least temporarily, change that through its new collaboration with Hershey's.
The two Pennsylvania brands have combined forces for Yuengling Hershey's Chocolate Porter, which will be available starting in mid-October and only on draft in select markets. The 4.7% ABV beer is a limited edition release that combines the iconic chocolate with the brewery's Dark Brewed Porter. So, once it's gone the way of The OA, there may be no amount of Change.org petitions that can bring it back. (Okay, maybe there's a chance in this case.)
Fortunately, that limited timeframe is expected to last from "Halloween through Valentine's Day," according to the brewery's announcement. The run will bring it to draft lines in Pennsylvania, Ohio, Massachusetts, West Virginia, New York, Virginia, Maryland, Connecticut, New Jersey, Rhode Island, Delaware, Indiana, Kentucky, and Washington, DC. You should be able to track it down through the "Find Our Beer" link at the brewery's website.
"As the sixth generation of the Yuengling family, we have a 190-year history of listening to our fans and looking for new ways to deliver quality and memorable drinking experiences," said Jennifer Yuengling, vice president of operations at Yuengling. "We saw a unique opportunity to partner with Hershey's, a brand known worldwide for its iconic, delicious tasting chocolate, to deliver fans our first-ever beer collaboration. We spent nearly a year developing our Yuengling Hershey's Chocolate Porter and are excited for the world to indulge in the classic taste of Yuengling Dark Brewed Porter blended with the unmistakable taste of Hershey's chocolate."
The timing couldn't be better. A pint of this will make it seem like it's okay to trick-or-treat as an adult.
Sign up here for our daily Thrillist email and subscribe here for our YouTube channel to get your fix of the best in food/drink/fun.