These Maps Show The Highest and Lowest Paying Jobs in All 50 States
America might be the home of the brave, but when it comes to jobs and income, it isn't exactly the most equal place in the world. Browsing the Bureau of Labor Statistics' website, the career guide Zippia compiled a map of the highest and lowest paying jobs in all 50 states. Using stats from 2015, the maps paint an interesting portrait of who earns the most and barely scrapes by in this country.
The largest takeaway from the project: Go to medical school, if you can afford it. Across all 50 states, medical professionals with a high degree of training earn far and away the most money. Anesthesiologists and surgeons dominate much of the map, while OB/GYNs, internists, dentists and orthodontists round out the remaining top spots. The ultimate earners here are anesthesiologists in North Dakota. That cohort earns $283,200 a year -- which seems pretty great, given the relatively low cost of living in the state.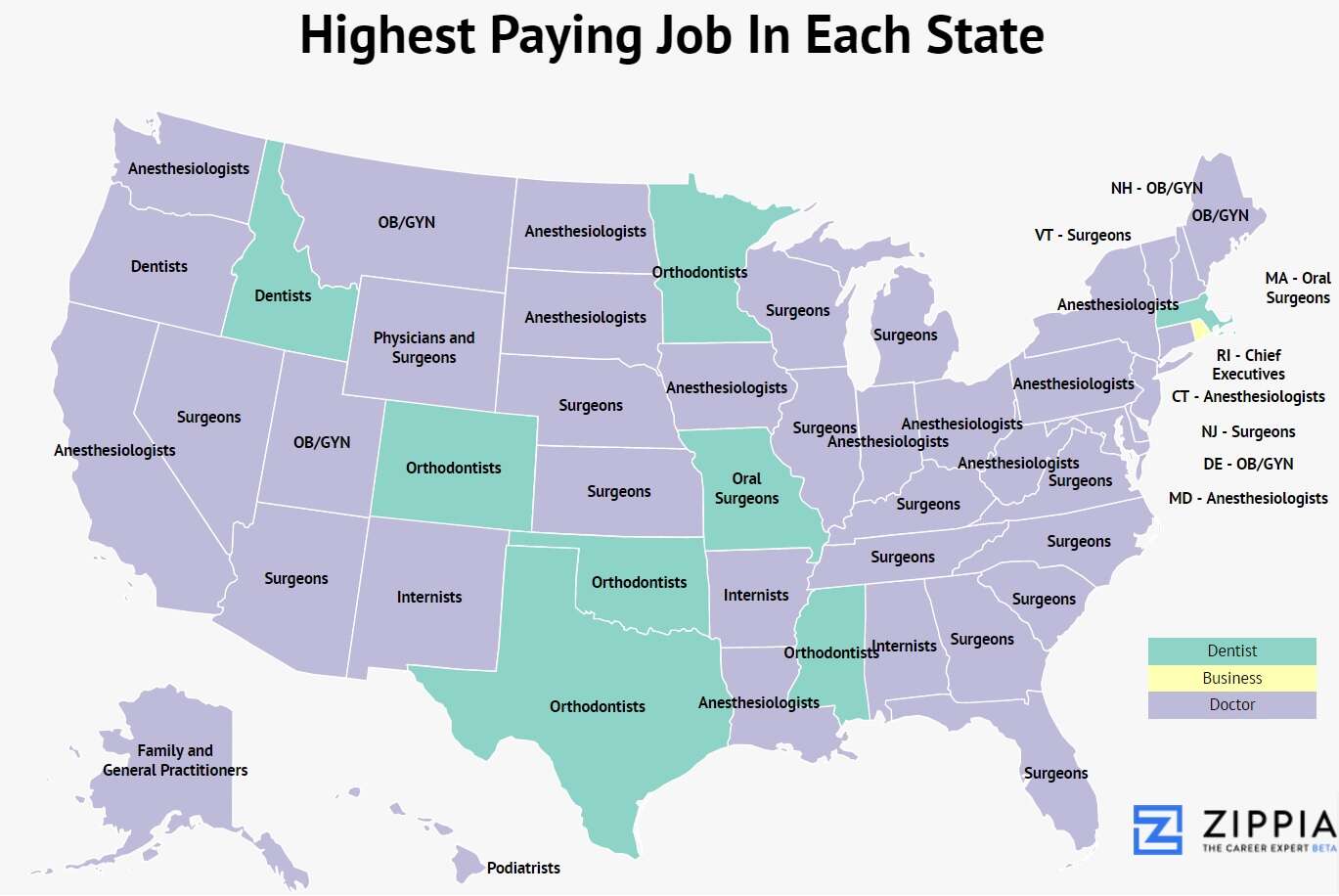 As far as low paying jobs are concerned, there's a glut of service jobs, the lion's share characterized by those in the food and restaurant industry. Unfortunately, those jobs aren't front-of-the-house positions that bring in tips, such as bartending and serving. Rather, line-cooking jobs in the fast food sector dot much of the landscape. There's also gigs with titles such as shampooer, gaming dealer, and usher -- the duties of which aren't really specified, but it's easy enough to imagine those responsibilities. The lowest paying job found by Zippia is a shampooer position in Wisconsin, the salary of which is a paltry $16,960.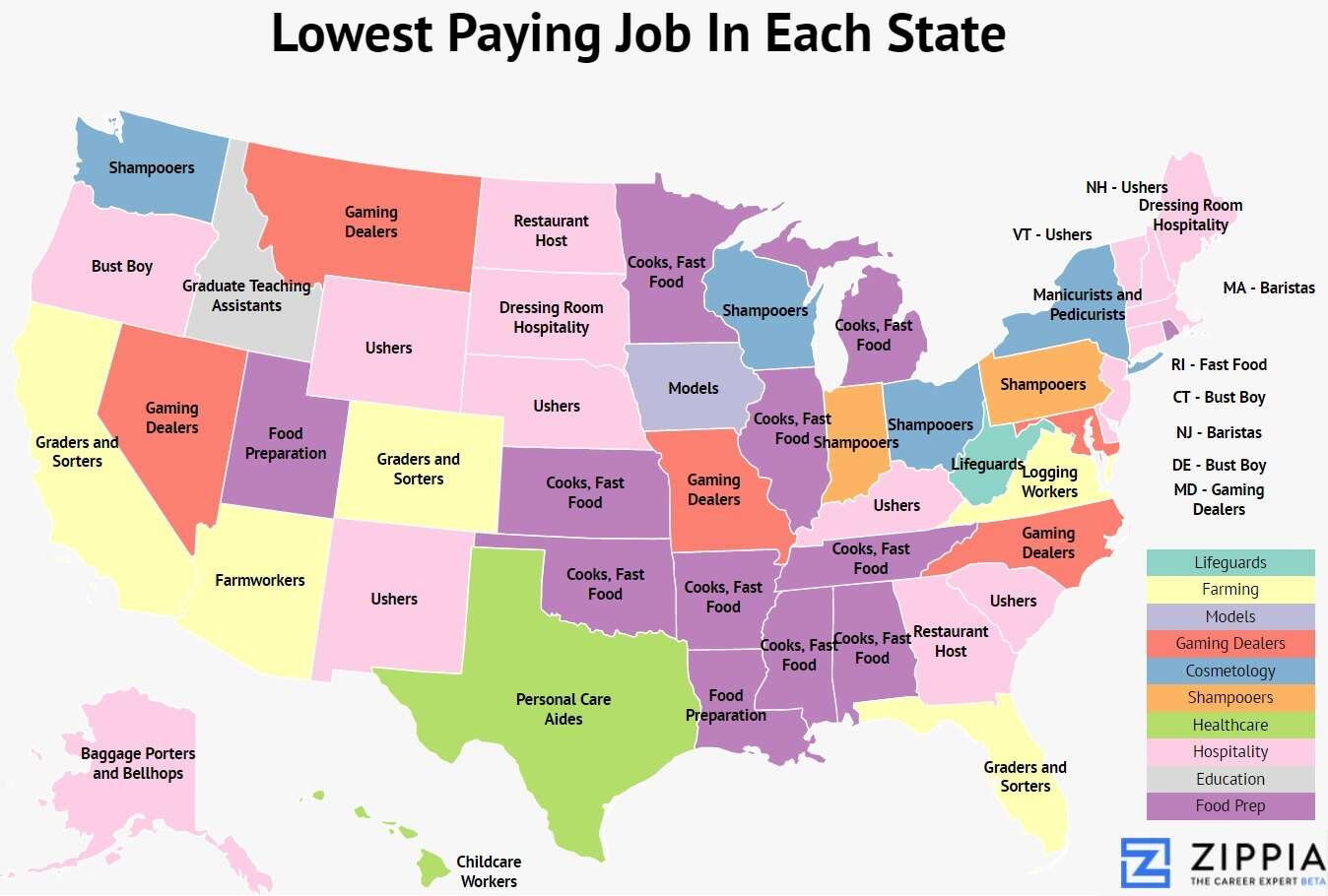 Take a look at the highest paying jobs in list form below:
Alaska: $235,600, Family And General Practitioners
Alabama: $250,340, Internists
Arkansas: $265,360, Internists
Alaska: $235,600, Family And General Practitioners
Alabama: $250,340, Internists
Arkansas: $265,360, Internists
Arizona: $256,760, Surgeons
California: $264,040, Anesthesiologists
Colorado: $281,470, Orthodontists
Connecticut: $257,710, Anesthesiologists
Delaware: $247,540Ob/Gyn
Florida: $250,880, Surgeons
Georgia: $271,420, Surgeons
Hawaii: $268,140, Podiatrists
Iowa: $280,020, Anesthesiologists
Idaho: $256,950, Dentists
Illinois: $248,420, Surgeons
Indiana: $261,750Anesthesiologists
Kansas: $240,600, Surgeons
Kentucky: $265,520, Surgeons
Louisiana: $263,740, Anesthesiologists
Massachusetts: $268,670, Oral Surgeons
Maryland: $272,420, Anesthesiologists
Maine: $279,390Ob/Gyn
Michigan: $245,150Surgeons
Minnesota: $272,660Orthodontists
Missouri: $277,690, Oral Surgeons
Mississippi: $272,010, Orthodontists
Montana: 246,120, Ob/Gyn
North Carolina: $269,760, Surgeons
North Dakota: $283,200, Anesthesiologists
Nebraska: $280,830, Surgeons
New Hampshire: $260,230Ob/Gyn
New Jersey: 270,790, Surgeons
New Mexico: $233,710, Internists
Nevada: $278,550, Surgeons
New York: $257,040 Anesthesiologists
Ohio: $258,960, Anesthesiologists
Oklahoma: $251,350, Orthodontists
Oregon: $238,260, Dentists
Pennsylvania: $258,610, Anesthesiologists
Rhode Island: $215,280, Chief Executives
South Carolina: $259,920, Surgeons
South Dakota: $279,300, Anesthesiologists
Tennessee: $239,620, Surgeons
Texas: $265,460, Orthodontists
Utah: $244,500, Ob/Gyn
Virginia: $247,800, Surgeons
Vermont: $232,110, Surgeons
Washington: $256,100, Anesthesiologists
Wisconsin: $245,940, Surgeons
West Virginia: $262,830, Anesthesiologists
Wyoming: $241,800, Physicians And Surgeons
Sign up here for our daily Thrillist email, and get your fix of the best in food/drink/fun.
Sam Blum is a News Staff Writer for Thrillist. He's also a martial arts and music nerd who appreciates a fine sandwich and cute dogs. Find his clips in The Guardian, Rolling Stone, The A.V. Club and Vice. He's on Twitter @Blumnessmonster.