You Can Get Paid $1,000 to Watch Irish-Themed Movies for St. Patrick's Day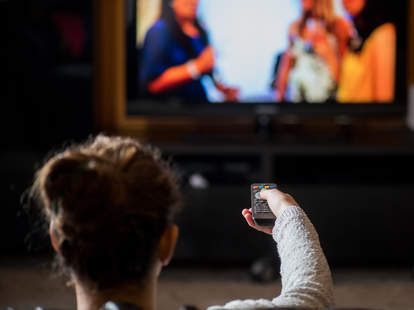 Ah, the luck of the not necessarily Irish, but of the people who can sit on their arses for a salary. Zippia, a career resource and technology company, just announced that it'll pay a savvy lad or lass to watch 10 Irish movies on St. Patrick's Day -- and the payment is a modern-day pot of gold. 
As Zippia puts it on the official "St. Paddy's Day Film Critic" job application page, "This is a roll up your sleeves and get immersed into the Irish culture like never before experience." And rolling up your sleeves is just about the most energy exertion the gig requires. You'll be given links to 10 movies, which we've listed below:
My Left Foot
The Crying Game
Far and Away
Circle of Friends
Hunger
The Departed
Leprechaun
Waking Ned Devine
Angela's Ashes
The Wind That Shakes The Barley
After you watch the movies, you'll have a tiny bit of homework -- a 1,000 word summary of what you learned about the Irish culture from watching the films. 
Aside from a salary of $1,000, you'll get a corned beef and cabbage meal fit for four, a family-sized box of Lucky Charms cereal, a McDonald's gift card good for four large Shamrock Shakes, and an entire U2 album of your choice (to add to the U2 iTunes collection you started when Apple randomly gave us Songs of Innocence for free).
"According to our career data, the annual salary for a movie critic is about $79,000 a year," Zippia wrote on the application page. "This job is for one day and pays 3 times the average movie critic salary!"
Applications are open now through March 15 at 5pm PST. Get paid some serious cash to watch films on St. Paddy's Day -- it's probably not the best idea to go to a parade, anyway. 
Sign up here for our daily Thrillist email and subscribe here for our YouTube channel to get your fix of the best in food/drink/fun.