W Hotel Created a Bar in Their Elevator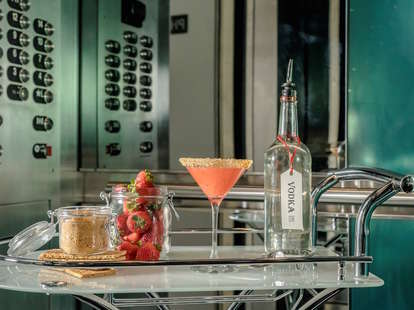 W Los Angeles
W Los Angeles
Elevator rides can be such a bore. You step in, stare straight ahead, and wait in silence as you rise or descend with a group of strangers. Thankfully, one hotel is upgrading the ubiquitous experience. They've added a bar.
When guests step into the elevator at the W Los Angeles - West Beverly Hills this holiday season, they'll be greeted by a personal bartender and the Sip N Lift Cocktail Caddy, a miniature bar cart. Available on Saturday evenings, the minuscule bar will serve signature cocktails from STK Los Angeles and The Living Room Bar, such as a Pomegranate and Rosemary Champagne Cocktail, and a vodka-based Strawberry Shortcake Cocktail, complete with a crushed graham cracker rim.
This may the first time that people hope for a slow-moving elevator, or for some mischievous kid to press every button so there's more time for imbibing. If the elevator breaks down, feel free to tell the firefighters to take their time—and tell the bartender to make you another.