Fireball Bagels Are So Good We Don't Care if They're a Bagel-bomination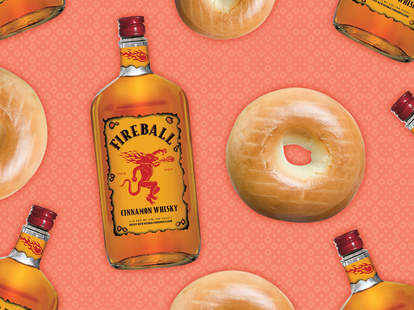 Bagel flavors have run off the rails in recent years. While variations like chocolate chip and blueberry could once spark outrage in bagel purists, those semi-sweet rounds are nothing compared to the recent onslaught of epic, Insta-worthy bagels kicked off by the rainbow bagel, the so-called "bagel that broke the internet." The trend has fueled places like The Bagel Nook in Freehold, New Jersey, inventor of the Flaming Hot Cheetos bagel, to go even further. Behold, their newest creation: the Fireball bagel. Forgive us, bagel lord. We knew not what glorious boozy bagels awaited us.
It's a scientific fact that Fireball improves all foods. Sweet treats like Eggnog and Jell-O are obvious choices to douse in the heat of sweet cinnamon whisky, but even savory dishes like bagels apparently pair well. At The Bagel Nook, bagel madman Alex Berkowitz pours Fireball straight into the bagel dough, before coating the bagels in cinnamon and baking them as usual, according to Delish. But that's not all. After the bagels come out, they get doused in concentrated Fireball syrup, giving them the sticky texture of thick French toast. Berkowitz then spreads the roll with apple pie cream cheese and delivers the spiked baked goods to happy bagel pilgrims from across the tri-state area.
If you've been tempted by a Fireball doughnut but cringed at the tooth-aching sweetness, these bready, boozy bagels are the perfect indulgence. As The Bagel Nook's own Instagram announcement puts it, "Need I say more … Cheers."