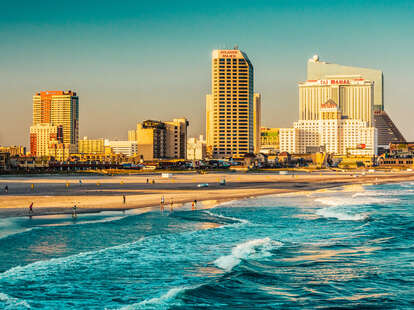 ESB Professional/Shutterstock
ESB Professional/Shutterstock
Summer might feel far away, but beach-goers will be flocking back to the famed Jersey Shore in just a few months. This week, construction crews broke ground on a huge new water park that's sure to become a significant tourist draw for the area.
Atlantic City's Showboat Hotel is already home to a massive new non-casino arcade, and it just started construction on another big attraction—Island Waterpark, which bills itself as the "largest indoor beachfront water park in the world." The $100 million project will yield 103,000 square feet of fun, including 11 waterslides, pools, and a lazy river, as well as bars, restaurants, and outlet shops. The water park even has a retractable glass roof to take advantage of in the warmer seasons.
The Showboat sits alongside Atlantic City's famous boardwalk, which will be replicated inside with a new boardwalk gaming area. The Press of Atlantic City reports that there will also be a 10,000 square foot "adults only" section with cocktails and spa services.
Construction is expected to take around 16 months, with a targeted opening date of Memorial Day Weekend 2023. It's the latest family-friendly investment for the Showboat, which was once a casino but pivoted toward non-gambling attractions under new ownership.
"Atlantic City has a long and rich history as a premier tourist destination," said developer Bart Blatstein in a press statement. "Showboat is committed to bringing non-gaming, family-friendly entertainment back to Atlantic City, and the water park is one more piece to that puzzle."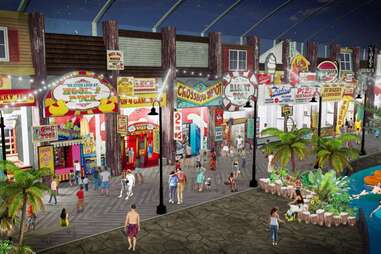 Chris Mench is the New York City News Editor at Thrillist. You can
follow him on Twitter
for more of his work.