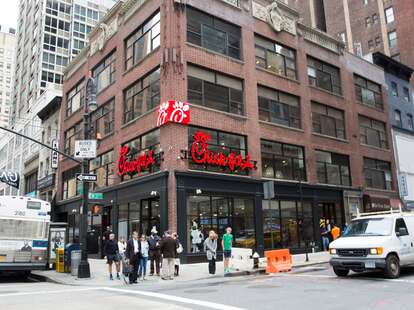 Chick-fil-A's big, greasy plans for chicken sandwich domination in NYC are no secret. Since opening its giant first restaurant in NYC near Herald Square last fall, the Georgia-based chain has already opened a second location just blocks away, with plans for many more across the city -- like the recently revealed plans for its first restaurant in Queens. But not everyone is happy about Chick-fil-A's push into the borough, including Mayor Bill de Blasio.
As explained in a report by DNAinfo New York, the company's intentions to open a new restaurant at Queens Center Mall were quickly met by opposition from a local city councilman and area residents, who have decried Chick-fil-A as "anti-LGBT." Of course, this isn't the first time New Yorkers have protested the chain's anti-LGBT history, but this time, the issue has (finally) reached the mayor.
"What the ownership of Chick-fil-A has said is wrong," the mayor said during an unrelated press conference on Tuesday, per the report. "...I'm certainly not going to patronize them and I wouldn't urge any other New Yorker to patronize them. But they do have a legal right."
Chick-fil-A, has long tried to keep its anti-LGBT past, well, in the past. Additionally, a company spokeswoman told DNAinfo, "The Chick-fil-A culture and service tradition in our restaurants is to treat every person with honor, dignity and respect -- regardless of their beliefs, race, creed, sexual orientation or gender." Chick-fil-A made similar statements when word spread of its plans to open in NYC.
The bottom line: some people love Chick-fil-A, someone people hate Chick-fil-A, and some people love to hate Chick-fil-A. The chain is as polarizing as it is popular and beloved. So, while Bill de Blasio's comments might not keep you from biting into a big crispy chicken sandwich, you'll at least know you won't see him waiting in the stupidly long lunchtime queues.
We reached out to Chick-fil-A for a response to the mayor's comments.
h/t Gothamist
Sign up here for our daily Thrillist email, and get your fix of the best in food/drink/fun.
Tony Merevick is Cities News Editor at Thrillist and is surprised it took the mayor this long to make a comment like this. Send news tips to news@thrillist.com and follow him on Twitter @tonymerevick.