Anthony Bourdain's Food Market Won't Open for 3 More Years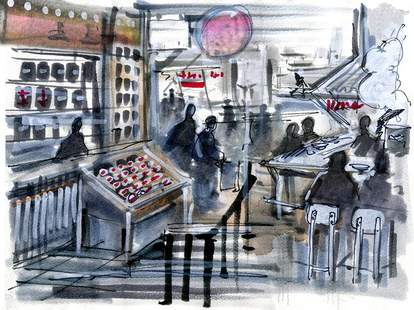 Courtesy of Bourdain Market
Looks like Bourdain Market, the much-anticipated international food market from none other than Anthony Bourdain, might not open next year after all. As first pointed out by Eater, the market's official website and Instagram account have been updated to reflect a new expected opening date of 2019. Yes, that's two years later than before.
The apparent setback comes just a few weeks after Bourdain told Adweek he hoped to open the massive market at Pier 57 sometime next year, while at the same time warning that the process of securing visas for the many food vendors he plans to hire from abroad could potentially hold things up. 
"There are some vendors who absolutely, positively need to be here, at least for a reasonable period, to train whatever people they want to bring with them or local people," he said at the time. "I mean, if we're going to be doing Tian Tian Hainanese chicken rice in New York City, the expectations of Chinese who've grown up here or have lived here for the last 15 to 20 years waiting for just such an establishment are going to be pretty enormous. We cannot disappoint, OK?"
OK, OK, we get it, Tony. It's gotta be good. But that doesn't make us any less impatient.
We reached out to Bourdain Market for details on what may have caused the apparent delay.
Sign up here for our daily Thrillist email, and get your fix of the best in food/drink/fun.
Tony Merevick is Cities News Editor at Thrillist and hopes this is just some sort of mistake. Send news tips to news@thrillist.com and follow him on Twitter @tonymerevick.