An Eerie Public Art Exhibit Just Sprouted in NYC's Madison Square Park
"Brier Patch" uses school desks and tree branches to comment on the US education system.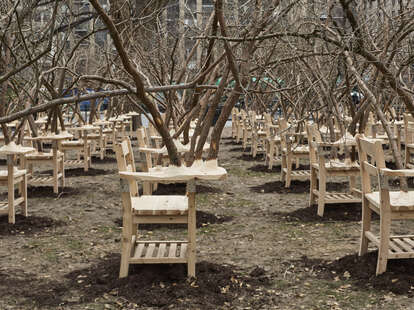 Photo by Yasunori Matsui, courtesy the artist and Madison Square Park Conservancy
Photo by Yasunori Matsui, courtesy the artist and Madison Square Park Conservancy
If you're headed to the Flatiron District's Madison Square Park anytime soon, it will be hard to miss the 100 school desks arranged carefully throughout the space. The haunting display is part of an exhibit called "Brier Patch" by Texas-born artist Hugh Hayden, which was installed earlier this week.
The desks take multiple formations throughout the park, with the largest grouping of 48 sitting on the oval lawn and sprouting tree branches. Others appear in smaller groups, with some un-branched desks even open for sitting. The exhibit's uniform rows mixed with its chaotic branches are meant to be a commentary on the US education system, from its uneven outcomes to its student loan debt.

"The overgrown configuration of branches overwhelms and encumbers the placidity of seats of childhood learning," said Brooke Kamin Rapaport, Deputy Director and Martin Friedman, Chief Curator of Madison Square Park Conservancy in a press statement. "'Brier Patch' is both visually powerful and loaded with inherent tensions—growth and stagnation, seduction and peril, individual and community—that ask us to consider how these dichotomies coexist in engrained systems and the work on view."
The new installation is the latest eerie public art with a message to come to Madison Square Park. Last year, the park hosted artist Maya Lin's Ghost Forest, a stand of 49 dead Atlantic white cedar trees meant as a commentary on climate change.
"Brier Patch" is free to visit. It will be on display through April 22.
Chris Mench is an editor focusing on NYC News at Thrillist. You can follow him on Twitter for more of his work.