Live Out Your Childhood Dreams at This Booze-Fueled, Adult Summer Camp
In case you were never shipped off for long summers of mosquito bites, water fights, and orienteering as a kid, it's not too late, thanks to a summer camp for adults that actually does summer camp the right way — you know, with a weekend-long open bar.
Camp No Counselors, a sprawling network of sun-drenched camp grounds, takes "summer camp" to the next level with slip 'n slides, late night dance parties, dodge ball and bunch of outdoor activities that go hand-in-hand with gorgeous-weather day drinking. While spots at the camp are often hard to come by, there is still space available for sessions in May, June, August, September and October this year, in locations throughout North America. Honestly, what do you have to lose?
Where are these camps happening?
Camp No Counselors is a North American institution that partners only with the best camp sites throughout the west coast, southwest, midwest, south, northeast and Canada. That makes it pretty convenient to access a campground near you, regardless of where you live. If you'd like to read up on all the locations, which range from Los Angeles, to Calgary, Nashville, Miami and more, click here.
The cost of transportation isn't included in your registration fee. Although you're encouraged to take a camp bus to the site, courtesy of Skedaddle, you can drive yourself and pay for a parking pass. Additional transportation details are available here.
Accommodations
The package includes three nights of lodging, and by lodging, they mean an assigned bunk among a set of bunkbeds that will sleep a bunch of people -- bunks vary in size according to camp site -- as well as cubbies where you can put all your stuff. So don't expect a lot of privacy, but do expect pre-gaming with your new bunkmates. There's even a flagpole right outside, where you can string up someone's underwear. The bunks are also co-ed, so we imagine more than a little hanky-panky from time to time.
Pro-tip: If you'd like to attend camp with some friends, you can register as a group of four or more and get a guaranteed bunk together.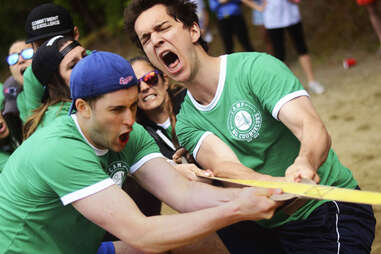 Activities
Since there's no damn counselors, you won't be forced to hike in the woods or toil with arts and crafts. You're an adult, so you decide what activities you want to fill the weekend with -- and there are a lot -- or kick back and just drink in the sunshine. Activities include water skiing, tubing, slip 'n slides, sunbathing, archery, hiking, dodge ball, kayaking, painting, ropes courses, scavenger hunts, and more.
Food & Drink
Just like the sleeping, the eating at Camp No Counselors is communal. The camp promises a weekend of big, "high end" meals in its dining hall, like BBQ, Mexican feast night, salads, and a bunch of other stuff -- even gluten-free options. Expect typical grilled fare for lunch, including hamburgers, hot dogs, and chicken.
As for booze, you'll wake up to mimosas and bloodies for breakfast, enjoy beer and wine throughout the day, and, of course, hit up that open bar at the nightly parties. No need to sneak hooch along with you, and you won't get kicked out for contraband.
Nighttime Parties
Pack glow sticks and get ready to dance your ass off -- if you make it through a full day of drinking and sun. Starting at 10pm (and running until about 2am), they really crank up the party with late-night, themed dance parties featuring DJs, live bands and prime time to soak up all that open bar has to offer.
No guarantees of awkward encounters with the opposite sex -- or the same sex for that matter. But it's camp -- embrace your inner 13-year-old.
Tony Merevick is Cities News Editor at Thrillist and never went to summer camp as a kid, and he's pretty happy about that. Send news tips to news@thrillist.com and follow him on Twitter @tonymerevick.