Since you were probably busy canoeing through a slush canal or getting freaky in the back of a taxi, we gathered up all the news you may have missed and made it really easy for you to not sound dumb when talking to your friends at the wine cooler.
Follow Thrillist NYC on Facebook to catch all of this during the week, but in the meantime here are some headlines from the past week that you can enthusiastically interject into a conversation:
You Probably Didn't Know You Could Do This With Your MetroCard
You should always be striving to maneuver the subway as knowledgeably and deftly as possible, which is why we found it so fascinating when a New Yorker posted an interesting question about their fare card Tuesday morning on AskNYC Reddit: What happens if you buy two monthly passes on the same fare card at the same time? READ MORE
Chick-fil-A Plans to Open in NYC Later This Year
Despite 2014 coming and going without the launch of multiple new Chick-fil-A locations in NYC (as a company exec promised last spring), the fried chicken sandwich giant hasn't given up on its plans for artery-clogging domination sometime in the near future. READ MORE
Recommended Video
'Game of Thrones' Season 8, Episode 3 Primer
The 11 Most WTF Things On NY Craigslist Right Now: Mini Stallion Edition
Just like Craigslist is a pretty great place to sell your old stuff, it's also where you'll find other people trying to get you to pay real money for their old things -- like smelly used socks and even huge masturbating machines. READ MORE
 
Your NYC Apartment Might Be Rent Stabilized Without You Knowing It
What if you've been living in a rent-stabilized apartment and paying market-rate for it without even realizing? A new website aims to help New Yorkers potentially make that painful yet potentially delightfully lucrative discovery by allowing you to search your building address and see if your unit could be rent-stabilized under the city's rules. READ MORE
 
Check Out Danny Meyer's First Standalone Cocktail Bar, Porchlight
Located nearly on the Hudson River at 271 Eleventh Ave in the historic Waterfront New York Building, Porchlight boasts a cocktail menu that is basically Southern flavors meets New York state of mind. READ MORE
 
Danny Bowien, Ivan Orkin & Others Create Bagel Sandos for Black Seed
Black Seed Bagels, the Elizabeth Street bagel shop that brought us game-changing , crisp, hybrid New York/Montreal bagels, announced it's launching limited edition bagel sandwiches by famous chefs like Ivan Orkin, Danny Bowien, and a handful of other notable food masters. READ MORE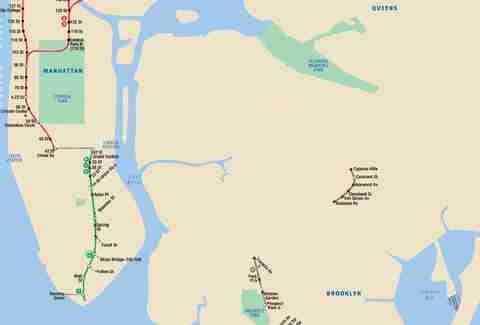 Watch the Rise of the NYC Subway System On This Animated Map
A cool animated map, displaying the NYC subway system's evolution over the span of about 120 years, has resurfaced this week on social media, and will probably leave you staring, mesmerized, for at least a few minutes. READ MORE
 
What's Cute, Furry, and Won't Pass TSA Security at LaGuardia?
Looks like humans aren't the only ones trying to escape this cold and snow nonsense. READ MORE
Tony Merevick is Cities News Editor at Thrillist and is looking forward to finding down with some red wine and comfort food after a week like this. Follow him on Twitter @tonymerevick.