Since you were probably busy sobbing uncontrollably because of the MTA fare hikes or the fact that it snowed on the first day of spring, we gathered up all the news you may have missed and made it really easy for you to not sound dumb when talking to your friends at the wine cooler.
Follow Thrillist NYC on Facebook to catch all of this during the week, but in the meantime, here are some headlines from the past week that you can enthusiastically interject into a conversation:
Momofuku's David Chang Plans to Open Fried Chicken Concept in NYC
David Chang, the food mastermind behind the Momofuku empire, is answering your handheld-chicken-sandwich prayers, and plans to open a new fried chicken concept restaurant in Manhattan. READ MORE
Recommended Video
Please Don't Hang Up: Miami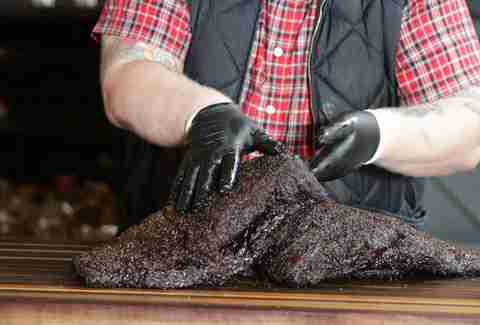 There's a New "Brisket King" of NYC
Over 20 chefs battled head-to-head for big, beefy glory on Monday night in Fort Greene during the third annual Brisket King NYC competition, and a new Brisket King of NYC has been crowned. READ MORE
 
Ugh: MTA Fare Hikes Go Into Effect On Sunday
As if the threat of up to three inches of snow to celebrate the first day of spring on Friday wasn't enough to crap all over your weekend, get ready to start paying a few bucks more to ride our lovely public transit system thanks to the MTA's new fare increases starting Sunday, March 22nd. READ MORE
 
Here's How To Make The Most Of Your New 11% MetroCard Bonuses
The MTA's lovely new fare hikes will be taking effect this weekend, but along with the increased rates will be increased MetroCard bonuses. Beginning Sunday, you'll get an 11% bonus when you add money to your MetroCard -- up from the previous bonus rate of 5%. READ MORE
 
Ess-A-Bagel To Shutter Original Location
After 39 years, NYC classic, Ess-A-Bagel, will serve its last hand-rolled bagels from its original location near First Ave and East 21st St next Monday, March 23rd. READ MORE
 
These Vertigo-Inducing Photos Look Down at NYC's Bustling Intersections
We can all get pretty good looks at NYC's intersections while trudging behind slow people or sweating while stuck in some good ol' crosstown traffic, but a collection of photos by award-winning photographer Navid Baraty puts a whole new perspective on some of Manhattan's busiest intersections ... and they might make you feel a little vertigo. READ MORE
 
This Glorious Video Of Summer In NYC Proves Winter Will End, Eventually
Cinematographer Richard Patterson has created a video showing our city thaw into the glorious summer days ahead -- think fountains flowing, dining outside in the sun, laying out on the lush, green Great Lawn. It's got us crying bittersweet tears of longing. READ MORE
 
Hit Up This New All-Draft Wine Bar In Alphabet City
If you like to go out and drink lots of wine, but don't do well with the snootiness, pretentiousness, or the high prices all too common at wine bars, a new Alphabet City spot with wine poured exclusively from the tap, could be the answer to your boozy, red-stained teeth needs. READ MORE
 
New App Shows Uber Is Probably More Expensive Than An NYC Taxi
Sometimes it can be an expensive and frustrating endeavor to get around in New York City, but a new app released this month claims to use deep data analysis to show users whether their trip would be cheaper with a ride from Uber, or from hailing a regular yellow taxi. READ MORE
 
You Can Buy This NJ Porn Store's Entire Inventory for $2,200 (OBO)
We wandered through the for sale listings around the NYC area again this week, and this is what we found. READ MORE
 
Looks Like Park Slope Is Getting Its First Chipotle
Chipotle, the ubiquitous, crazy-popular fast-casual chain with burritos-the-size-of-your-head, reportedly plans to open its first outpost in Park Slope. READ MORE
Tony Merevick is Cities News Editor at Thrillist and just wants to hide inside his apartment all weekend with bourbon and delivery food. Send news tips to him at tony@thrillist.com and follow him on Twitter @tonymerevick.