De Blasio: Valentine's Weekend Could Be The Coldest in 20 Years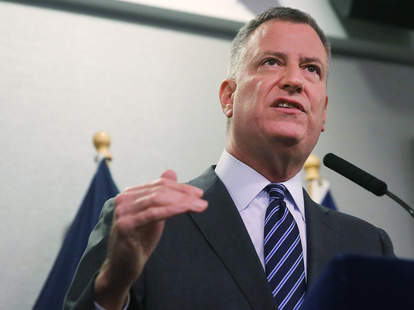 Spencer Platt/Getty Images
A deep freeze, matched only by the coldness of your loveless Valentine's Day heart, is moving into the NYC area Thursday night and will make for what could be a dangerously cold holiday weekend, and according to Mayor Bill De Blasio, "it's serious stuff."
"Starting tonight and going through Sunday, we're going to be experiencing extraordinarily cold weather, and people should take appropriate precautions," De Blasio said, according to a transcript of his remarks to media prior to discussing Brooklyn's failed bid to host the 2016 DNC convention. "Temperatures are expected to plummet to near-record lows, and remain dangerously cold through the weekend. On Sunday, it could be the coldest in at least 20 years, so this is something to take very, very seriously."
Apparently, wind chills will fall into the negative double digits through the weekend, according to the mayor and the National Weather Service. De Blasio warned of wind chills dipping well below zero Thursday through Saturday, but emphasized Sunday night's forecasted cold, saying, "But then, Sunday -- which I really want to warn people about -- the high at this point we're hearing for Sunday night is 3 degrees -- that's the high -- wind chills between -15 and -20 degrees. So, this is serious stuff." And if you don't have to go outdoors, stay inside, he said.
And worse -- yes, it gets worse -- next Monday could the coldest Feb. 16 in NYC since 1888 with a low forecasted at just 1 degree due to a second cold front that will smack NYC, DNAinforeported. So basically, we're getting a big slice of cuddling weather for V-Day, so maybe plan to cook something nice at home? But then again, this Red Velvet Oreo Cookies & Cream ice cream still sounds pretty damn good despite the cold.
Tony Merevick is Cities News Editor at Thrillist and thinks getting earmuffs this winter was the best idea he's had in a while. Follow him on Twitter @tonymerevick.