Expect A Huge Swarm Of Naked People In Body Paint To Hit NYC This Summer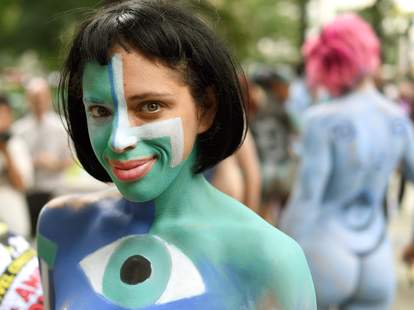 TIMOTHY A. CLARY/AFP/Getty Images
If you've lived in NYC for like a minute, you've probably seen some pretty interesting NSFW things while walking down the street, and this summer, a group of artists, models, and really freaking brave volunteers are going to take things to a whole new level. As part of what's dubbed NYC Bodypainting Day, at least 100 people are set to wear nothing but paint and their bare skin (and hopefully shoes!) through the streets of NYC as a gloriously naked act of public art and free expression.
Last year, dozens of nude models coated in colorful body paint paraded among the city's summer tourists from Columbus Circle to Times Square -- to the shock, surprise, delight, and probably offense to some who encountered the group. And this year, artist Andy Golub is planning for an even bigger spectacle with double the models, the ability for volunteers to spontaneously drop trou and get painted on the spot, and, for the first time, stage a separate event in Amsterdam, now that a Kickstarter campaign to fund the festivities had exceeded its goal.
"We will have at least 50 artists and 100 models, who are fully nude and are a full-range of people -- male and female, old and young, people who are very thin and people who are very large," Golub told Thrillist. "The purpose of the event is first and foremost a public art event, and it also celebrates free expression and body acceptance."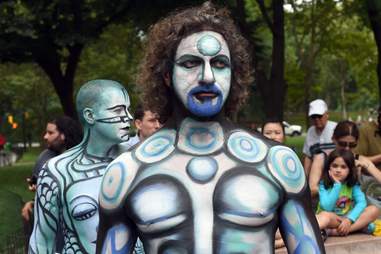 TIMOTHY A. CLARY/AFP/Getty Images
The NYC event will take place at noon on Saturday, July 18th at Dag Hammarskjold Plaza in Midtown East (near 47nd St and Second Ave) and will include four hours of live naked body painting, a big naked march from the plaza to the United Nations building, a naked photo shoot of the models that anyone can join in on, oh, and a freaking naked double decker bus ride around the city with naked people waving from it. That's a whole lot of nakedness.
Golub said he doesn't expect any issues with police or anything to do with the legality of the event, and he's even been granted a permit from the Parks Department for the event like he was last year.
"Being able to do this event here makes NYC one of the most amazing cities and I think you can really make a case that New York is the coolest city in the country because there's almost no other place that would allow this -- full nudity, mass numbers, male and female, in a public street," Golub said. "It really speaks to the value that NYC sees for creative public expression." That, and nudity.
Tony Merevick is Cities News Editor at Thrillist and hopes it doesn't rain that day! Send news tips to him at tony@thrillist.com and follow him on Twitter @tonymerevick.