Free Nutella Pancake Cones, The New Futuristic Park & More NYC News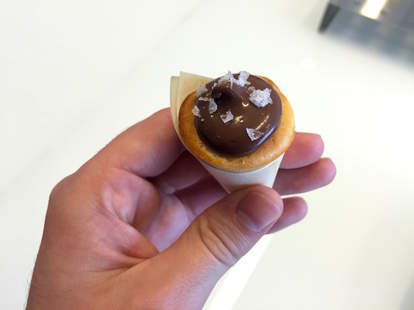 Since you were probably busy frantically finding a Valentine's date on Tinder or thinking about getting your butthole/vagina steamed, we gathered up all the news you may have missed and made it really easy for you to not sound dumb when talking to your friends at the wine cooler. 
Here are some headlines and news stories you can enthusiastically interject into a conversation:
The Cronut Master Will Be Giving Away Free Nutella Pancake Cones
Chef Dominique Ansel, the lord of the cronuts and sorcerer of sweet treats, has again teamed up with Nutella -- this time to bring you a special pancake-themed creation for "International Pancake Tuesday," or Fat Tuesday, next week. READ MORE
50 Shades of Buscemi Trailer is All You Need This Valentine's Day
For those of you who are hotly anticipating the big release of 50 Shades of Grey for Valentine's Day, there's a new wildly-erotic trailer you might have missed ... starring the one and only, Steve Buscemi. READ MORE
Holy Crap! Red Velvet Oreo Ice Cream at Davey's (Through Sunday)
David Yoo of Davey's Ice Cream has apparently "got the goods." And by goods, we mean Red Velvet Oreos mixed into ice cream. READ MORE
NYC Airports Are the Least Accessible in the World, Study Says
A new study is confirming what many New Yorkers already know: it's a huge -- and costly -- pain in the ass to get out of New York. READ MORE
A New Bar on a Boat Is Coming to Brooklyn This Spring
Brooklyn Barge Bar, a new bar and restaurant on a boat -- sort of like the Frying Pan in Chelsea -- is planning to drop anchor on the Greenpoint waterfront later this Spring. READ MORE
Miley Cyrus Video Scheduled -- Then Pulled -- From Upcoming Bushwick Porn Film Fest
So, there's a big porn film festival set to go down in Bushwick later this month, and thanks to a schedule organizers posted on Facebook, we finally know what to expect. READ MORE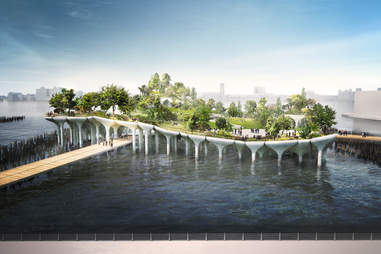 Courtesy of Pier55, Inc./Heatherwick Studio
Futuristic Island Park On Hudson River Takes Big Step Forward
New York City is one step closer to having a stunning, futuristic island park floating on the Hudson River as plans for the ambitious project took a step forward Wednesday. READ MORE
 
Here's Exactly How Not To Support A Busker at a Subway Station
Do not be this guy. Ever. READ MORE
 
Video Glimpses Inside That Stunning, Graffiti-Covered Building On Bowery
Now, we can get a peek at the building's ornate interior, photography workspaces, and its incredible rooftop view of NYC. READ MORE
 
Get Ramen Fried Chicken and "Chonuts" at the Kimchi Smoke Pop-Up
The Kimchi Smoke Pop-Up series is coming to Jimmy's No. 43 next week (Feb. 15th - 17th), and along with bestsellers like the brisket and kimchi packed Austin cho, it's bringing back favorites like ramen fried chicken and chonuts, the latter of which it describes as "100% ridiculousness." READ MORE
 
Momofuku To Start Selling Bottles of New, Mysterious Chili Sauce
The next Sriracha? Momofuku plans to start selling bottles of a mysterious new Korean Chili sauce called Ssäm Sauce, according a tweet from the food masterminds on Wednesday. READ MORE
 
Pizza Beach Is Now Serving Thai Coconut Shrimp Pizza on the UES
Brothers Tom and Anthony Martignetti, the guys best known for spots like The East Pole, Brinkley's Broome St., and Southside, have opened Pizza Beach, a new beachside cafe-style pizza joint on the Upper East Side that aims to "reinterpret everyone's favorite food." READ MORE
 
NYC Breaks Record With No Murders In 11 Days
As of midnight Thursday, New York City has gone over 11 days without a murder, breaking the modern record for the longest stretch of time police have not had to investigate a murder case. READ MORE
 
New Upper East Side Whole Foods Will Have a Freaking Cheese Club
A shiny, new Whole Foods is slated to open on the Upper East Side on Feb. 18, and as Gothamist reported, the three-level location at East 87th Street and Third Avenue will feature more than just the typical 83% organic soap and chickenless nuggets. READ MORE
Tony Merevick is Cities News Editor at Thrillist and plans to stay inside and warm this weekend. Oh, and he hopes everyone can keep this no murders streak going. Follow him on Twitter @tonymerevick.