<a href="http://www.shutterstock.com/gallery-637885p1.html?cr=00&amp;pl=edit-00">Carl Bjorklund</a> / <a href="http://www.shutterstock.com/editorial?cr=00&amp;pl=edit-00">Shutterstock.com</a>
<a href="http://www.shutterstock.com/gallery-637885p1.html?cr=00&amp;pl=edit-00">Carl Bjorklund</a> / <a href="http://www.shutterstock.com/editorial?cr=00&amp;pl=edit-00">Shutterstock.com</a>
The Governor's Ball, New York's biggest summer music event, just announced its full lineup, and the 2016 edition shouldn't disappoint, no matter what musical genre you're into. Well, unless you're super into piano sonatas. Then why the hell do you care about Governor's Ball?
This year's lineup will be headlined by none other than Mr. Kim Kardashian himself, Kanye West. Yeezy's fellow headliners include New York City's own The Strokes, and the always-kinda-weird and you're-not-sure-if-you-love-anything-but-their-first-album The Killers. The preeminent East Coast music event features three days of food and music on Randall's Island, slotted this year for June 3-5. Other artists on the bill include Chet Faker, Beck, Action Bronson, and about seven dozen bands and artists you've heard of before, but probably couldn't actually pick out of a police lineup. They'll still be excellent, though.
Check out the full lineup poster for the sixth edition of New York's best summer concert.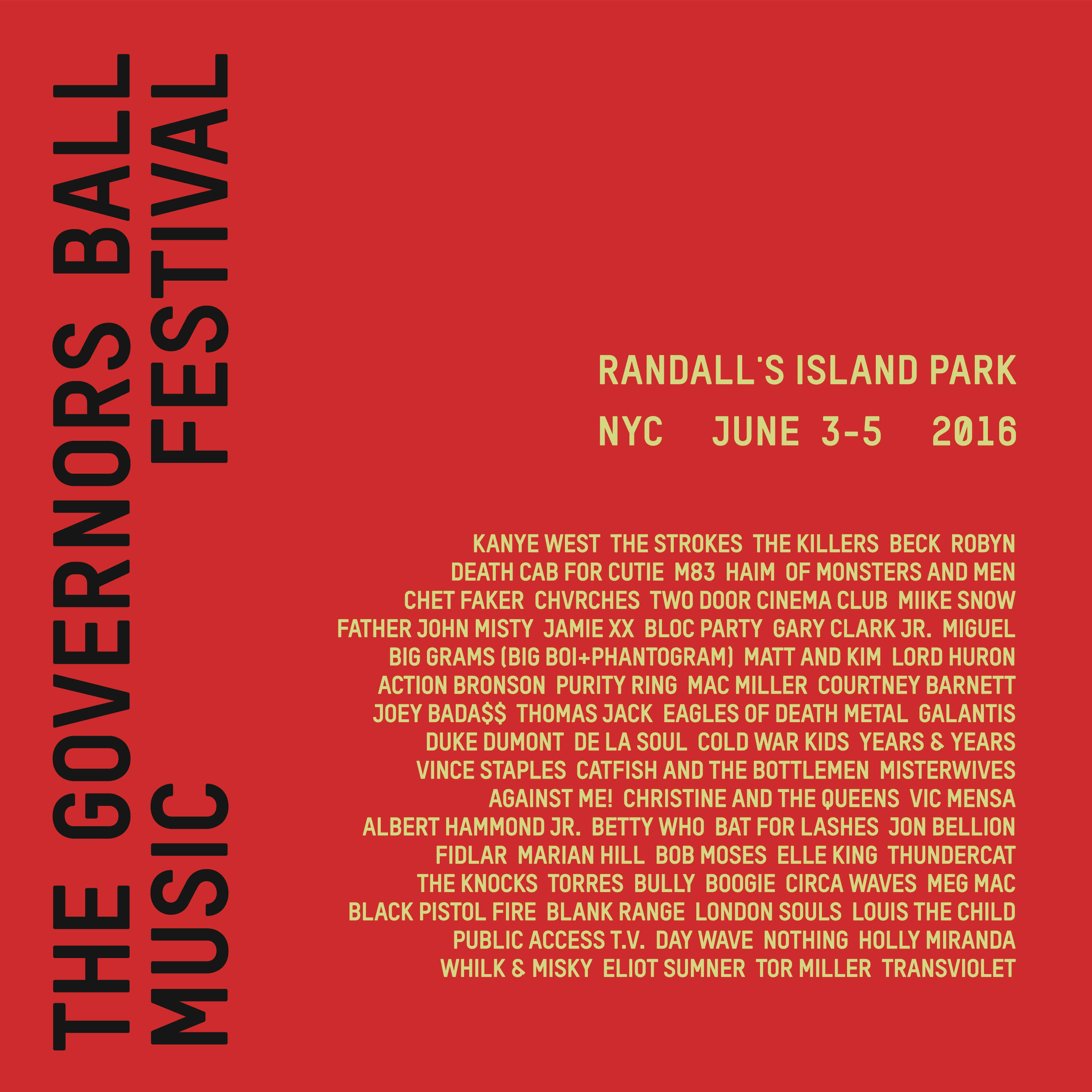 Tickets are already on sale today, and only today, Jan. 8. General admission tickets for all three days will cost you $315, while VIP access tickets will cost you $650.
And if you're extra fancy and got 2 Gs to burn, 3-day Super VIP tickets will cost $2,100. Each Super VIP ticket comes with a complementary Golden Goose.*
Ticket prices will jump after Jan. 8. Snooze, lose, and pay more for your... shit, tickets doesn't rhyme with either of those words. But you get the idea.

*This is a lie
Sign up here for our daily Thrillist email, and get your fix of the best in food/drink/fun.
Ryan Craggs is Thrillist's Senior News Editor. He's never attended Governor's Ball because he's always at a wedding that weekend. True, but not interesting story. Follow him @ryanrcraggs.