Here's A Map Showing NYC's Most Popular Dog Breeds By Neighborhood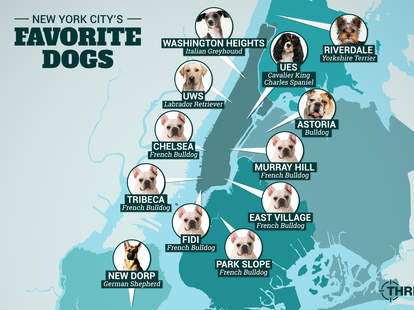 Look out Beagles and Yorkshire Terriers! The French Bulldog has been crowned as NYC's top dog in 2014, according to a new ranking of the city's most popular dog breeds by the American Kennel Club.
Frenchies dominated half of the 12 neighborhoods the AKC included in its ranking information released this week, knocking out its cousin, the Bulldog, for the top spot. This should be no surprise to anyone who's walked through an NYC park in the summer, only to gawk at all of the cute Frenchies walking by, practically in a parade procession. While Rottweilers appear to be winning over our tough hearts, lil' Yorkies slid two spots -- from sixth to eighth most popular last year. Or maybe we just can't see them since they'll all stuffed in oversize purses?
The map shows the Frenchie's vast rule across Tribeca, Park Slope, FiDi, Murray Hill, the East Village, and Chelsea. However, the Bulldog is still top dog in Astoria. Meanwhile, Upper West Siders -- like many San Francisco dog owners and the country as a whole -- prefer the Labrador Retriever. Regal folks on the Upper East Side aptly enjoy Cavalier King Charles Spaniel, but they're probably named things like Sir Alexander VanPawdington. Fancy.
 
Frenchies, though, didn't even make the Top 5 breeds nationally. Americans chose Labrador Retrievers as their furry companions in 2014, followed by the German Shepherd, the Golden Retriever, the Bulldog, and the Beagle, according to AKC.  
Here's the full AKC 2014 ranking for NYC:
1. French Bulldog 
2. Bulldog
3. Labrador Retriever
4. German Shepherd
5. Golden Retriever
And here are NYC's top dogs in 2013:
1. Bulldog
2. French Bulldog
3. Labrador Retriever
4. German Shepherd
5. Golden Retriever
Tony Merevick is Cities News Editor at Thrillist and is surprised he and his boyfriend haven't fallen down stairs or walked into traffic given how much gawking at dogs they do while out and about in NYC. Follow him on Twitter @tonymerevick.