The MTA's lovely new fare hikes will be taking effect this weekend, but along with the increased rates will be increased MetroCard bonuses. Beginning Sunday, you'll get an 11% bonus when you add money to your MetroCard -- up from the previous bonus rate of 5%. Our beloved transit agency has also launched a new tool that will help you figure out exactly how much to load onto your MetroCard to avoid having that useless, leftover change that gets trapped forever in the MetroCard netherworld. If you play it right, you'll no longer have to kiss those precious nickels and dimes goodbye ever again.
The tool, or the MetroCard Calculator, lets you punch in the amount you want to put on your new MetroCard, and the calculator will tell you how many rides you'll get, how big your bonus will be, and how much change will be leftover.
According to the calculator, if you add $28.25 to a card, the value of it will be $30.25 (after subtracting the $1 card fee and adding the 11% bonus), which will get you exactly 11 rides (at $2.56 a ride) and will result in zero change leftover. With higher amounts, you might want to consider weekly or monthly unlimited passes, which will cost you $31 and $116.50, respectively, starting on Sunday.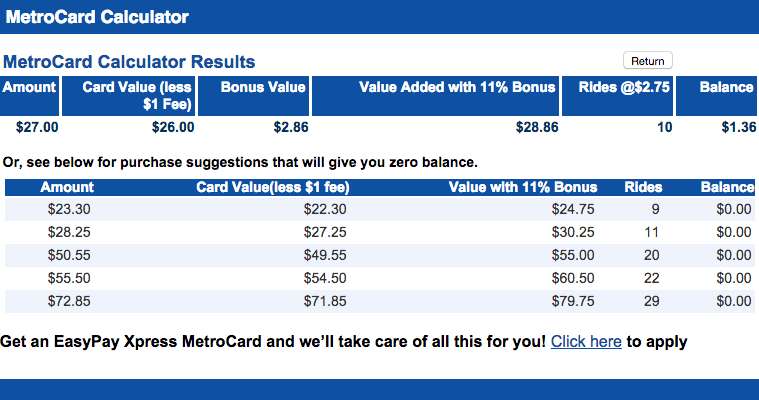 Creating a calculator that will ultimately save you money is a surprising act of benevolence, considering the MTA has acknowledged that it benefits from unspent credit on those MetroCards you've given up on -- to the tune of tens of millions of dollars every year, as The New York Timesreported last January. But then again, considering the fare increases and major service delays and issues lately, it's the least they can do, right?
Tony Merevick is Cities News Editor at Thrillist and wishes this was around when he first moved to NYC. Send news tips to him at tony@thrillist.com and follow him on Twitter @tonymerevick.